By Jim Boulden, CNN Correspondent
LONDON, England (CNN) -- Fine china and glasswork maker Waterford Wedgwood has called in a receiver -- the British equivalent of bankruptcy.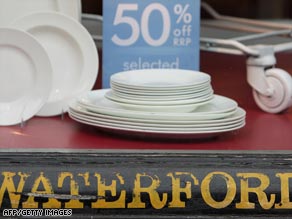 Fine china and glass maker Waterford and Wedgewood has called in a receiver.
In its announcement to the London Stock Exchange, the company said its receiver will be the international accounting firm Deloitte LLP.
Receivership and administration are forms of bankruptcy protection. The administrator can choose to try and keep parts of the company operating or sell off the brands, shutting it down. The aim is to find the most profitable way to pay creditors.
In a statement, Deloitte said it hoped to find a buyer for the fine china, pottery and crystal maker, and said Waterford Wedgwood would operate normally in the meantime.
"The administration team will be working closely with management, customers and suppliers during this time to ensure operations continue while a sale of the business is sought," Deloitte said.
The subsidiaries put into administration Monday include Josiah Wedgwood and Sons and Royal Doulton Ltd.
Waterford Wedgwood can trace its roots back to the 18th century when glass blown in the Irish port of Waterford became a popular export and Josiah Wedgwood began to make affordable fine china in the British midlands.
The two well-known brands merged in 1986, but suffered losses in each of the last three years. Waterford has been laying off employees in South East Ireland since 2007, having moved much of its production to Slovenia. The company also has a ceramics plant in Jakarta, Indonesia.
The group also includes the brands' Rosenthal porcelain, which was not part of the administration.
In December the company announced it could no longer pay its debt obligations to a consortium of lenders, headed by Bank of America. Waterford Wedgwood was given two periods of "forbearance" in December by the banks, giving it more time to find a buyer or a cash injection.
That grace period ended Monday.
In the company's announcement to the London Stock Exchange, the well-known businessman Tony O'Reilly, who controls Waterford Wedgwood, said: "We are consoled only by the fact that everything that could have been done, by management and by the board, to preserve the Group was done."
The company says its main markets are the United States, Britain and Germany, with a growing exposure in Asia and Eastern Europe.
It employs 1,900 people in the UK and 5,800 people in the United States, Ireland, Germany, Indonesia and in other parts of Asia and Europe, Deloitte said.
E-mail to a friend