LONDON, England (CNN) -- British retail giant Marks & Spencer unveiled its worst sales figures for almost a decade Wednesday and announced plans to cut up to 1,230 jobs.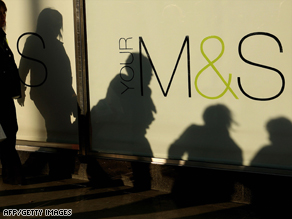 M&S is one of Britain's biggest retailers, employing around 70,000 people.
In a statement, M&S said its like-for-like sales fell by 7.1 percent in the 13 weeks to December 27.
Total UK sales fell by 3.4 percent despite efforts to control operating costs.
The company, which employs around 70,000 staff in the UK, plans to close 27 stores across Britain with the loss of up to 780 jobs. It said 25 of these are small "under performing" Simply Food stores and two are small main chain stores.
A further 450 posts could go as a result of cost reductions at its head office.
M&S also said it expected its overall profit margin to be lower this year following increased promotional activity, such as discounts in its food products.
Chairman Stuart Rose said: "We are aware that the proposed changes set out above will be difficult for those members of staff impacted, but given that we expect challenging economic conditions to continue for at least the next 12 months we believe we are taking the right action to maintain the strength of our business."
E-mail to a friend