LONDON, England (CNN) -- The Bank of England has cut UK interest rates to their lowest-ever level, the bank announced Thursday, trimming them to 1.5 percent.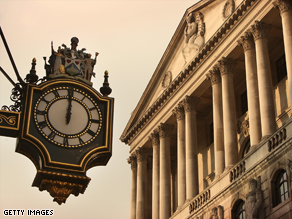 UK interest rates are at their lowest levels since the Bank of England was founded in 1694.
The half-percentage point cut brings the rate to its lowest level in the central bank's 315-year history.
The Bank cited weakening consumer spending, a tightening credit market for households and businesses, and a deteriorating business and residential investment outlook in announcing the decision.
But financial analyst Todd Benjamin said he didn't expect the move to kickstart the UK economy.
Like many western nations, the UK has been badly hit by the global financial crisis with the government providing bailout money to many major banks and many high street household names already bankrupt.
"I think rates were already low enough; if they were going to alleviate (the situation) they would have done so already," Benjamin told CNN.
He said the main problem with cutting interest rates was that it punished savers, especially pensioners.
While some homeowners could expect lower mortgage payments, many lenders -- including the Nationwide Building Society, one of the UK's biggest lender -- had said they would not pass further rate cuts onto their customers, Benjamin said.
He said interest rates could go lower, even reaching zero percent. But he said the real problem was getting cautious banks stung by the credit crunch and the financial crisis to ease lending conditions.

"The biggest problem right now is that (the Bank of England) is pulling out all the stops in terms of creating liquidity in the system but the banks are still being very tight with their lending," Benjamin said.
"Until that loosens up we're going to continue having a very tough time and remain mired in recession."
E-mail to a friend