From CNN's Hada Messia





ROME, Italy (CNN) -- The board of ailing Italian airline Alitalia has accepted an offer from Air France-KLM to buy 25 percent of the company and become its international partner, Alitalia announced Monday evening.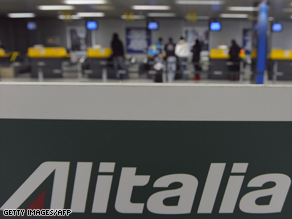 Alitalia began flying in 1947 and was a proud symbol of Italy's economic prowess after WWII.
Air France-KLM, which will pay €323 million ($431 million), will be the biggest shareholder in Alitalia and will have three seats the 19-member board of directors, Alitalia said in a news conference in Rome.
Alitalia will keep its name, logo and uniforms. The airline will fly 22 fewer jets, but its 148-unit fleet will consist of younger planes, mostly from Airbus.
Passengers will be able to fly to 70 Alitalia destinations: 23 in Italy, 34 elsewhere in Europe and 13 on other continents.
It remains to be seen how free the new Alitalia will be from union strikes. Demonstrations are scheduled for Tuesday, but no immediate strikes are planned. The next scheduled strike is expected to take place January 19 for four hours.
The union behind that strike represents mainly ground workers and some flight attendants.
Don't Miss
Alitalia declared bankruptcy in August and the government placed Augusto Fantozzi as administrator.
The airline began flying in 1947 and became a proud symbol of Italy's economic prowess in the post-war period. Italian Premier Silvio Berlusconi campaigned last year on a promise to keep Alitalia under Italian ownership.
CAI, a consortium of 18 Italian entrepreneurs, won control of Alitalia in the fall, after numerous talks with Fantozzi and Italian government officials and despite protests and strikes that canceled hundreds of flights and increased losses for the company.
Alitalia, for which annual net profits have been rare, is expected to record a 2008 operating loss of €1 billion ($1.3 billion) on revenue of €3.7 billion ($4.9 billion), Fantozzi has said.
The other contenders for Alitalia's partnership were Lufthansa and British Airways. Rocco Sabelli, CAI's managing director, said Air France was chosen because it showed more determination, conviction and willingness.
Sabelli said Alitalia fares will not increase.
E-mail to a friend

All About Alitalia-Linee Aeree Italiane SpA