(CNN) -- Global stocks continued sliding Thursday as reports that Bank of America faces a cash shortfall in its purchase of Merril Lynch dragged Wall Street while and ECB rate cut failed to cheer Europe.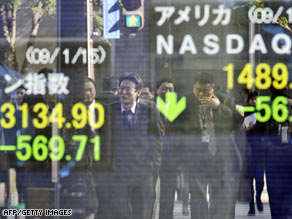 Businessmen are reflected on a share prices board in Tokyo, Japan, on Thursday.
The Dow Jones industrial average dropped to 1.71 percent in early afternoon trading, while indices in London, Paris and Frankfurt followed a pattern of downturns set by Asia.
By close of play in Europe, the FTSE 100 was down 1.42 percent, the Paris CAC 40 was down 1.84 percent and the DAX 30 was down 1.94 percent despite the European Central Bank's lending rate cut of half a point to 2 percent.
The selloff was brutal across Asia. Tokyo's Nikkei average slumped nearly five percent on the day after Japan's Cabinet office reported a record drop in November machinery orders. Separately, Nissan announced a domestic production cut of 64,000 vehicles for February and March in an attempt to bring inventory in line with demand.
In Seoul, South Korea's KOSPI lost 6.0 percent; Australia's All Ordinaries index shed 4.1 percent; and Hong Kong Hang Seng gave up 3.4 percent.
On Wall Street, Bank of America's woes countered a surprise profit from JPMorgan Chase while news that Apple chief Steve Jobs will take a medical leave also fueled weakness.
New York stocks slumped heavily a day earlier as a bleak retail sales report and more dour news from the banking sector amplified fears of a prolonged recession.
Wednesday's decline extends the 2009 selloff. Stocks have slipped through much of the first two weeks of the year as worse-than-expected economic and corporate news has caused investors to question the year-end rally.
"There's a sense of 'Wow. We knew it was bad, but not this bad,' " said Drew Kanaly, chairman and CEO at Kanaly Trust Company.
Don't Miss
He said that no one is surprised by the downturn, but rather the scope and speed of it. "I think it's caught people a little off guard, how fast the economic conditions have started to deteriorate."
In particular, investors were reacting Wednesday to the weakness in the banking sector, said Steven Goldman, market strategist at Weeden & Co.
Deutsche Bank reported a huge quarterly loss, HSBC may need to raise billions in capital and JPMorgan Chase's results are looming. Investors are also taking a sour reaction to news that Citigroup is selling a majority stake in its brokerage unit to Morgan Stanley, a move that would seem to indicate the beginning of the break-up of the troubled banking firm.
"Citigroup selling their crown jewels in a bad environment is definitely contributing to the selling over the last week," Goldman said.
Between the bear market lows of Nov. 20 and the end of the first session of 2009, the S&P 500 rallied nearly 24 percent. Since then, the S&P 500 has lost 9.6 percent and looks to be headed for more declines in the short term.
But the financial sector has fared far worse. Between November 20 and the first session of the year, the KBW Bank index gained over 23 percent, roughly comparable to the S&P 500. Since then, it has lost almost 21 percent, far surpassing the broad market's decline.
E-mail to a friend