(CNN) -- Asian markets dropped Wednesday, following the cue of their Western counterparts a day earlier.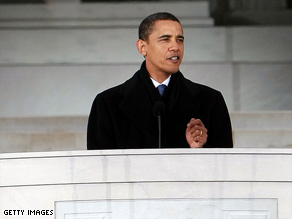 U.S. President Barack Obama speaks at his inauguration on Tuesday.
Hong Kong's Hang Seng took the biggest hit in early trading, falling more than 2 percent to 12,692.97.
Tokyo's Nikkei index fell below 8,000, sinking 1.93 percent to 7,909.85, amid continuing banking woes in Japan. Australia's All Ordinaries Index dropped 1.1 percent, and Seoul's KOSPI index dropped 1.53 percent.
China's Shanghai composite index was faring better, down only a quarter of a point.
In New York Tuesday, stocks slumped to two-month lows, as investors looked beyond President Barack Obama's historic inauguration to the battered economy he inherits.
The Dow Jones industrial average lost 4 percent, closing at the lowest point since November 21. The Standard & Poor's 500 index lost 5.3 percent and the Nasdaq composite lost 5.8 percent.
Obama's inauguration does not change the underlying issues, said Phil Orlando, chief equity market strategist at Federated Investors.
"Fourth-quarter earnings are a disaster," he said. "The numbers are poor, there are kitchen-sink writedowns and management is providing conservative or negative guidance."
Earnings are on track to have fallen 20.2 percent in the fourth quarter from a year earlier, according to the latest Thomson Reuters figures.
The FTSE 100 in London closed down about 0.5 percent, the CAC 40 in Paris was down just over 2 percent and the DAC 30 in Frankfurt slid about 1.75 percent.
E-mail to a friend

All About Toyota Motor Company