(CNN) -- The scope of economic problems sweeping the world was highlighted Wednesday with stock markets taking new hits and thousands more job losses being announced.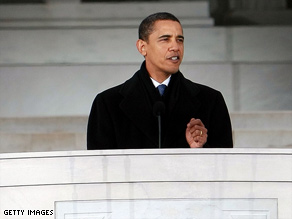 U.S. President Barack Obama speaks at his inauguration on Tuesday.
Hopes that Barack Obama's inauguration as U.S. president would buoy the markets were, for the short term at least, dashed as Wall Street sank Tuesday, with renewed banking sector uncertainty helping drive down shares.
Those New York markets bounced Wednesday with the Dow Jones closing up 3.5 percent, the Nasdaq up 4.6 percent and the S&UP up 4.3 percent.
Elsewhere the new was more often grim.
The British pound fell to its lowest level against the dollar in seven years amid general concerns about the country's financial sector.
Bank of England governor Mervyn King has warned the British economy may shrink in the first half of 2009, and unemployment is at the highest level in a decade and approaching 2 million.
In France unemployment is more than 2 million, about 1.7 million Italians are unemployed and in Germany, the European Union's biggest economy, unemployment is more than 3 million.
Germany has warned the economy may shrink by 2.25 percent this year.
Telecoms giant Ericsson said it will cut 5,000 jobs globally despite stronger-than-expected fourth quarter earnings released Wednesday
In Australia, BHP Billiton -- the world's largest mining company -- announced it was cutting 6,000 jobs. It blames a gloomy outlook for the global nickel market.
The Australian All Ordinaries Index dropped 0.9 percent on additional signs of a weakening economy.
In Asia, markets were red across the board, with Tokyo's Nikkei, Seoul's KOSPI and Hong Kong's Hang Seng all dropping 2 percent or more.
Similar falls greeted market openings at London's FTSE 100, the Paris CAC 40 and the Frankfurt DAX 30. The FTSE and CAC closed down by less than 1 percent. The DAC closed up about 0.5 percent.
Troubled U.S. insurer AIG will end its shirt sponsorship deal with English Premier League and European champions Manchester United next year.
AIG is still restructuring after receiving a bail-out of $150 billion from the U.S. Government.

According to a poll released Wednesday, only 13 percent think the U.S. economy will recover within a year. Twenty-seven percent think it will take up to two years and 59 percent feel it will take two years or longer to recover from the current recession, which has already lasted 13 months.
On his first day in office, Obama announced he was freezing the pay of about 100 White House staffers who earn more than $100,000 a year.
E-mail to a friend