(CNN) -- Heads of state, influential politicians, business leaders and global power brokers will gather in the Swiss Alps next week for the World Economic Forum -- with the perilous state of the planet's financial system set to top this year's agenda.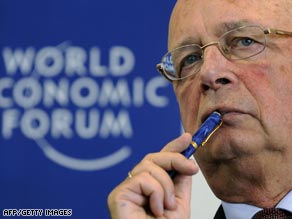 Schwab: "What we are experiencing is the birth of a new era, a wake-up call to overhaul ... our way of thinking."
The mood at the annual meeting in the ski resort of Davos, which gets under way Wednesday January 28, is considered a key barometer of the economic weather ahead.
And with the banking industry in crisis, western economies in recession, financial markets reeling from some of the worst retreats in recent history and many corporations slashing headcounts by the thousand it is perhaps no surprise that the mission statement of this year's event -- "Shaping the Post-Crisis World" -- offers a downbeat assessment of what lies in store for 2009 and beyond.
This year's five-day meeting will attract 2,500 participants from 96 countries, including a record 41 heads of state or government. Chinese Premier Wen Jiabao and Russian Prime Minister Vladimir Putin are among those addressing delegates on the opening day.
Other participants include German Chancellor Angela Merkel, British Prime Minister Gordon Brown and Japanese Prime Minister Taro Aso.
Although newly inaugurated U.S. President Barack Obama won't be there in person, he is sending National Economic Council Director Larry Summers.
Around 1,400 company chairmen and CEOs will also be in attendance, including News Corp. media tycoon Rupert Murdoch, Shell CEO Jeroen van der Veer, Renault President Carlos Ghosn and HSBC Chairman Stephen Green.
Beyond the economic malaise, this year's meeting will also focus on global risks associated with climate change, food and water security.
"The Annual Meeting 2009 is one of the most crucial in the near 40-year history of the World Economic Forum," WEF founder Klaus Schwab told journalists on Wednesday.
"It will be the place where key actors can address both a crisis of unprecedented scope and, at the same time, the sort of world we collectively want to see emerging once the crisis is over. What we are experiencing is the birth of a new era, a wake-up call to overhaul our institutions, our systems and, above all, our way of thinking."
CNN International will be offering unrivalled coverage of this year's meeting all of next week, both on television and online.
Watch out for business coverage and analysis from Richard Quest and Charles Hodson with daily interviews with some of the biggest names in corporate boardrooms.
On Thursday January 29 Christiane Amanpour hosts an exclusive panel discussion in conjunction with YouTube on the challenges facing Barack Obama, with guests including Kenyan Prime Minister Raila Odinga, British and French foreign ministers David Miliband and Bernard Kouchner and Mohammed ElBaradei, Director General of the International Atomic Energy Agency.
Plus CNN wants to hear the questions that you want us to put to our guests. Check out the Dear Davos page to see how you can get involved.
E-mail to a friend