(CNN) -- Tens of thousands of job losses were announced on Monday as American economists said they expected an already deep recession to worsen in 2009.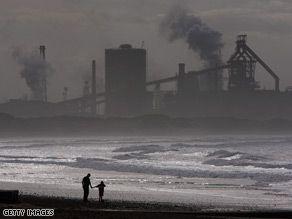 The Corus steelworks overshadows the beach in Teeside, northern England.
The grim news came from all around the world. In the United States, heavy vehicles maker Caterpillar said it would cut 5,000 more jobs in a bid to "deal with a very challenging global business environment."
The heavy construction machinery manufacturer had already said it was cutting 15,000 workers, most of which were announced in the fourth quarter of 2008.
In all, the 20,000 people who will lose their jobs amount to about 18 percent of the company's total workforce. Caterpillar currently employs about 113,000 workers.
"While it's painful for our employees and suppliers, it's absolutely necessary given economic circumstances." The news came as the company reported record sales and revenue of $51.3 billion for 2008.
In Europe more than 10,000 job cuts were announced. Dutch-based finance and insurance group ING said it was cutting up to 7,000 staff in an effort to help save $1.4 billion.
And Netherlands-based electronics giant Philips said 6,000 jobs would be lost worldwide in 2009 following quarterly losses of €1.5 billion ($1.9 billion), its first quarterly loss since 2003.
A spokesman for Philips, which employs 121,000 people around the world, told the Press Association it had not announced where the job cuts would fall, saying they would be decided on a "case by case" basis.
Philips' loss is worse than anticipated with analysts in a poll for Reuters.com expecting a net loss of just €1.2 billion.
"The development of our quarterly results reflects the unprecedented speed and ferocity with which the economy softened in 2008," Philips Chief Executive Gerard Kleisterlee said in a statement.
Philips' announcement follows similar news from its competitors, such as Japan's Sony, which warned it was likely to post a record $2.9 billion annual operating loss, and Samsung posting its first-ever quarterly loss.
Meanwhile Monday, Indian-owned Corus said it would axe 3,500 jobs, including 2,500 of its 24,000 employees in the UK.
The company said the measures would improve profits by more than £200 million ($273 million). Corus, part of the Tata Group which also owns Jaguar and Land Rover, has 42,000 workers around the world and says it will try to achieve the 3,500 cuts through voluntary redundancies.
The crisis in the steel industry has been caused by the downturn in the two main markets, construction and car manufacturing.
Steel prices, which had been driven to record highs by strong demand from China, have more than halved in the last year.
European stock markets finished the day higher with London's FTSE 100 up 3.9 percent, Paris' CAC 40 up 3.7 percent and the DAX 30 in Frankfurt 3.5 percent. Earlier, Asian markets closed down by up to about 1 percent.
In New York, the Dow, Nasdaq and S&P were helped by better-than-expected readings on existing home sales and pharmaceutical giant Pfizer announcing it has signed a deal to acquire the smaller drugmaker Wyeth for $68 billion.
According to early tallies, all three U.S. markets closed up but by less than 1 percent.
The Pfizer deal also means more job losses. The company said it would cut 10 percent of its staff and close five manufacturing plants. The company said it employed 81,900 staffers at the end of 2008, and had already cut 4,700 jobs in 2008.
Meanwhile, a survey by the U.S. National Association for Business Economics said companies will lay off more workers and hoard more cash during the next 12 months.
Most of the 105 economists polled said they thought the output of the U.S. would continue to sink -- from already historic lows -- this year.
"NABE's January 2009 Industry Survey depicts the worst business conditions since the survey began in 1982, confirming that the U.S. recession deepened in the fourth quarter of 2008," Sara Johnson, a NABE economist, told CNNMoney.com.

Elsewhere in the United States, home improvement retailer Home Depot announced it would cut 7,000 jobs and telecom company Sprint Nextel said about 8,000 jobs would go by March 31.
Each day is now bringing fresh bouts of bad news on jobs. Last week Microsoft said it would cut 5,000 jobs over the next 18 months, showing that even the biggest and richest companies are being hit hard by the recession.
E-mail to a friend