(CNN) -- The economic gloom continued on Monday as electronics giant Philips and steel maker Corus both announced thousands of job cuts.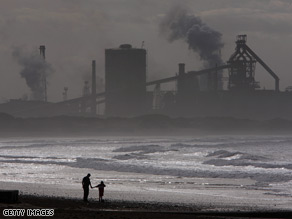 The Corus steelworks overshadows the beach in Teeside, northern England.
Netherlands-based Philips said 6,000 jobs would be lost worldwide in 2009 following quarterly losses of €1.5 billion ($1.9 billion), its first quarterly loss since 2003.
A spokesman for Philips, which employs 121,000 people around the world, told the Press Association it had not announced where the job cuts would fall, saying they would be decided on a "case by case" basis.
Philips' loss is worse than anticipated with analysts in a poll for Reuters.com expecting a net loss of just €1.2 billion.
"The development of our quarterly results reflects the unprecedented speed and ferocity with which the economy softened in 2008," Philips Chief Executive Gerard Kleisterlee said in a statement.
Philips' announcement follows similar news from its competitors, such as Japan's Sony, which warned it was likely to post a record $2.9 billion annual operating loss, and Samsung posting its first-ever quarterly loss.
Meanwhile Monday, Indian-owned Corus said it would axe 3,500 jobs, including 2,500 of its 24,000 employees in the UK.
The company said the measures would improve profits by more than £200 million ($273 million). Corus, part of the Tata Group which also owns Jaguar and Land Rover, has 42,000 workers around the world and says it will try to achieve the 3,500 cuts through voluntary redundancies.
The crisis in the steel industry has been caused by the downturn in the two main markets, construction and car manufacturing.
Steel prices, which had been driven to record highs by strong demand from China, have more than halved in the last year.
E-mail to a friend