By CNN's Simon Hooper





DAVOS, Switzerland (CNN) -- The head of the World Economic Forum has urged delegates to respond to the global economic crisis by shaping a "new world" as they braved snowstorms, icy roads and subzero temperatures Tuesday to gather for the five-day annual brainstorm in the Swiss Alps.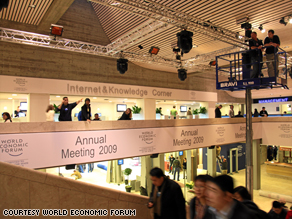 Delegates are arriving for the start of the World Economic Forum amid troubled times for the global economy.
Speaking to CNN, WEF founder Klaus Schwab said the world was in the midst of a "transformational crisis" and admitted that Davos 2009 would be "more concerned, more austere and more modest" than previous events.
"The whole atmosphere is going to be different," said Schwab. "Above all else this is a crisis of confidence. To restore confidence you have to establish signposts that the world after the crisis will be different. We have to create a new world and that is what Davos 2009 will be all about -- serving society."

Watch an interview with WEF's Klaus Schwab »
Davos has traditionally attracted the cream of the global business community, eager to bring a boardroom mentality to bear on a smorgasbord of international issues from climate change to developing world aid to weapons proliferation.
But the spotlight this time is likely to fall squarely on political leaders, as newly humbled industries from banking to car manufacturing seek government assistance to help them survive a deepening recession that has devastated stock markets and threatens millions of jobs.
Peter Levene, Chairman of the London-based insurers Lloyd's, admitted the mood among corporate representatives would need to be more reflective and self-critical than usual.

A downward economic spiral? More with Peter Levene »
Don't Miss
"For a long time people have come here -- probably with reason at the time -- saying, 'Aren't we brilliant, we're doing a fantastic job'... and suddenly the bubble burst, and they have to accept that and they have to say so," he told CNN.
"Some people say, 'Well, why are they going to Davos? Shouldn't they be back in the office trying to fix things?' I think getting the people who have to make these decisions together to talk quietly is a good idea -- but I think the razzmatazz has to disappear."
World leaders are set to attend in record numbers, including Russian Prime Minister Vladimir Putin, who will deliver the opening address Wednesday, Chinese Premier Wen Jiabao, British Prime Minister Gordon Brown, German Chancellor Angela Merkel and Australian Prime Minister Kevin Rudd.
"One of the key things this year is that it is the politicians who are taking center stage," TIME Deputy Editor Michael Elliott told CNN. "Everyone realizes that it is determined and systematic government action that is needed to make sure that this economic crisis doesn't turn into a great depression."

More from Michael Elliott: What happened to the global economy? »

But Elliott said many of the conversations taking place this week, both in public sessions and behind closed doors, would be concerned less with the world beyond the current crisis as getting the economy out of its present malaise.
"As people gather here today, there is a tremendous nervousness that 2009 might turn out to be worse than 2008," he warned. "We're still in the crisis and some of the very best sessions we'll have this week will not be looking to the post-crisis world but how we ameliorate the crisis that we are in the thick of."
E-mail to a friend