By Kyung Lah
CNN





TOKYO, Japan (CNN) -- Japan's top three automakers all slashed global production last month, as the world financial crisis deepened.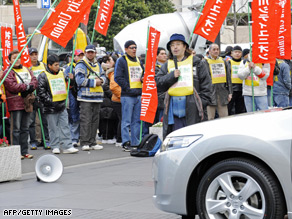 Honda workers protest Tuesday's production cuts outside the car company's HQ in Tokyo.
In the December 2008 results reported by the automakers Wednesday, Toyota, now the world's largest automaker, reported a worldwide production decline of 25 percent, equaling 479,027 vehicles. Honda reported a global production decline of 7.5 percent, totaling 277,294 vehicles. Nissan's global production also fell in December by 35.9 percent, or 176,174 units.
The 2008 calendar year figures were more forgiving: Toyota's worldwide production fell 3.8 percent, Nissan's fell 1.1 percent and Honda reported a worldwide production increase of 1.2 percent, due to production in regions outside of Japan, such as China.
Japanese automakers have been particularly hard hit in the global economic slowdown, as demand has plummeted in the lucrative U.S. consumer market and the yen has surged against the dollar.
In response, the automakers have slashed global output and profit forecasts, cut jobs and halted assembly lines for designated days in early 2009.

Toyota announced that all of its 12 owned and operated factories in Japan will stop running for 11 days, spread out over February and March. Toyota also expects to operate in the red for the fiscal year for the first time in its history and plans to fire all 3,000 of its part-time, temporary employees in Japan by year's end.
Honda yesterday widened production cuts in North America by 29,000 vehicles and plans to lay off all of its 3,100 temporary workers in Japan by April.
E-mail to a friend