By Charles Hodson
CNN Anchor and Correspondent





DAVOS, Switzerland (CNN) -- Royal Ascot it ain't. But here in Davos, a hat is more than something to put on your head; it is a statement -- as much of preparedness as of status.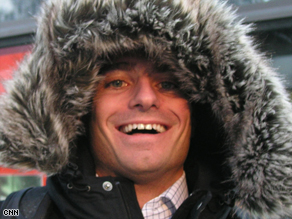 A unusual array of headwear can be found on the chilly streets of Davos during the World Economic Forum.
The feathered "fascinator" that looks a million dollars at a grand summer occasion would be franc-ly cents-less in the Swiss Alps. If you want to be on the money up here, something that comes down over the ears is a must.
Not that such practical considerations rule out elegance. Half an hour spent on the pavement outside the World Economic Forum site proves that there is plenty of headgear around that can turn heads as well as warm them.

See photos of the best hats in Davos »
Not always for the right reasons. Pascal Lamy, who heads the World Trade Organization, is one of the few who holds to the original casual dress code at Davos, and his stripey wooly hat, though described as "sort of cute" by my editor, did not speak of power dressing. Next time he bangs heads together at some tough trade liberalization summit he had better go for something more macho.
Jean-Claude Trichet, President of the European Central Bank, has a more distinctive approach: a strange multicolored flat cap of a type that might well look perfect on a harlequin invited to a spot of grouse hunting in Northern England.
Like many hat wearers, Europe's most powerful central banker clearly wants to make a statement. At least he has a hat. With the temperature nudging well below freezing point, those who go around bare-headed will quickly suffer for it.
Don't Miss
But here in Davos everything is available to those willing to pay for it. Tucked into the plush main street, the Promenade, is the bespoke "Hat and Congress-Shop," just the place for those wishing to avoid losing the odd ear-lobe to frostbite.
I decide to check it out, camera in hand. But as I snap off a shot of the row of warmly-clad dummies in the window, out comes the shopkeeper. Not mad as the proverbial hatter, thankfully, but insistent, in an affable sort of way, that his suppliers are not anxious to have their latest designs photographed and copied by their competitors.
This, I realize, is a nation where the deep-rooted fear of industrial espionage extends to woolly hats. Knowing the fate of those who attempt it (prison, albeit a Swiss prison), I withdraw swiftly.
Never mind. Being short of a hair or two and susceptible to the cold, I have a jolly good hat anyway: a fluffy black rabbit number that no doubt fell off the back of a Soviet lorry about twenty years ago as it pulled out of East Germany; I picked it up at a modest price at Berlin's Checkpoint Charlie. Stripped of its Red Army badge, it might not disgrace an oligarch, though these days it is getting as moth-eaten as those Russian plutocrats' fortunes.

Disregarding advice received early on in my TV career that one should never wear a hat on screen, I put the thing on my head briefly on Thursday's late edition of "World Business Today". My Hong Kong colleague Andrew Stevens comments that it makes me look as if I've got a wig on.
You see the problem with hats? It's that kind of ridicule that makes me want to brave the bitter cold instead.
E-mail to a friend