By CNN's Simon Hooper





DAVOS, Switzerland (CNN) -- Japan will hand out $17 billion in development aid to other Asian countries to help them face the global financial crisis, Prime Minister Taro Aso said Saturday at the World Economic Forum.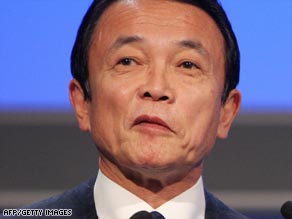 Aso said the U.S. needed to curb overconsumption.
Announcing the three-year aid package, Aso said Asian countries could lead the world out of recession through closer economic cooperation.
"We will support Asian countries by mobilising funds," said Aso told delegates in Davos. "I'm convinced that deepening cooperation within the Asian region would lead to a recovery in the global economy."
But Aso warned that stable economic growth could only be achieved if the U.S. curbed overconsumption and urged countries to reduce their dependency on overseas exports.
"To get the world economy on a stable growth path again, it is necessary to correct excessive consumption in the United States, as well as global imbalance coming from insufficient domestic demand of various countries, especially those with trade surpluses," Aso said.
"In order to put the world economy back onto a stable growth trajectory, one imperative is correcting the global imbalance that has arisen from overconsumption in the United States and insufficient internal demand in other countries," Aso said.
Aso also called on leaders to work together on agreeing urgent new measures to tackle global warming, warning that November's environment summit in Copenhagen would be "make or break."
"We are at a crossroads of a very, very historical nature," Aso said. "Let's put strong pressure on each other for the completion of the Copenhagen process."
Aso also pledged to announce details in the summer of how Japan planned to reach its target of cutting carbon emissions by up to 80 percent by 2050 and said the country could play a leading role in the development of greener technologies.
"We are in an age of pessimism. Some will go on to say that with the economy going downhill, it will be difficult for the international community to tackle climate change as it will generate little money," Aso said.
"Nothing could be further from the truth... I am a big believed that we can both grow and emit less with the help of the technologies new and still untapped."
E-mail to a friend