By Charles Hodson
CNN





DAVOS, Switzerland (CNN) -- He begins the meeting as he always does -- with a prayer: "Come, Holy Spirit, and renew the face of the earth."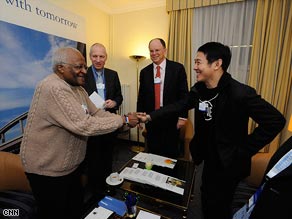 Archbishop Desmond Tutu, CNN's Charles Hodson, Deloitte CEO James Quigley and Jet Li in Davos
The man uttering those ancient words is one of the world's most familiar churchmen: Archbishop and Nobel Peace Prize laureate Desmond Tutu, veteran of the struggle against apartheid and formerly Anglican Archbishop of Cape Town.
But just opposite him is a man from a different generation, a different culture and a different hemisphere: one of China's best-known celebrities, the martial arts star and screen actor, Jet Li.
Sitting between the two -- and responsible for bringing these two extraordinary people together for the first time -- is the Global CEO of the consulting firm Deloitte, James Quigley.
What unites the three, as they gather in a hotel room in the wings of the World Economic Forum in Davos, Switzerland, is a common passion for philanthropy and social responsibility, both collective and corporate.
Jet Li recounts how he came to found his One Foundation. In 2004, his toddler daughter was swept away and narrowly escaped death when that December's tsunami hit the Maldives where they were holidaying. It was an experience that changed the direction of his life.
"Many talk of money, money, money," he tells us in voluble English. "Money is important, but we are also spiritual. We need to be balanced."
Don't Miss
His philanthropy is based on the idea of human unity and three things that everyone has in common: "We are human beings, we have family values and our home is the earth." The name "One Foundation" comes from that and from the idea of "1 person + 1 yuan + 1 month = 1 big family."
What Jet Li put in place was, he says, the first nongovernmental organization in China, and it was put to the test when a huge earthquake struck China's Sichuan Province last May.
Inspired by his own example and that of hundreds of other Chinese actors and celebrities, millions of his countrymen responded at once. Some 25 million yuan ($3.7 million) was raised in just three days, and by the end of a week that sum had doubled.
Help also came from further afield. Deloitte was one of many international companies and organizations to provide support. "We were delighted to help," says James Quigley. "My people were proud to be associated with the relief effort."
Across the room, Desmond Tutu listens intently and with obvious approval, fascinated by the way that in a country supposed to be purely secular, Jet Li draws on an understanding of common humanity that strikes a deep chord with the world's major religions.
"One lesson that God is trying to teach us is that we are all part of one family," says the archbishop. "If we directed only a part of the obscene amount of money that we spend on so-called defense, we could provide clean water for every child."
He cites climate change as an example of what happens when responsibility is set aside, and sees the hurricane that devastated the U.S. Gulf coast in 2005 as a warning. "After Katrina, people realized that God is saying 'Look, I have given you this home. Don't take more than your fair share.' And the economic meltdown has shown us how connected we are."
Nodding enthusiastically at each other across the narrow room, Tutu and Li are clearly getting on well. As the actor delivers his message with infectious enthusiasm, the Archbishop observes, to general merriment: "What a wonderful preacher you would have made!"
Tutu returns to more serious themes, recalling the role of business leaders in the huge political changes that swept through South Africa in the early 1990s.
He notes that while they cooperated with the previous apartheid regime, they kept up the momentum of change once Nelson Mandela was released from jail in 1990. To counter an upsurge of violence that threatened the process of transferring to majority rule, business convened the forum which produced a peace accord and cleared the way for democratic elections.
The Archbishop lists more recent example of business making a difference in Africa, such as initiatives to bring computers to schools (also involving Deloitte), and an intriguing invention called the "Lapdesk" -- a portable desk which fits neatly onto a schoolchild's lap.
"The greatest threat to our world will be poverty," he says, explaining how business must help make it history by sponsoring education.
Reaching the end of a long list of issues that humanity badly needs to address, Tutu shakes his head and says, in tones of relief: "I'm glad I'm not God."

Blessed with perfect timing, the archbishop holds the shocked silence for exactly one second, and then his gleeful giggling triggers a gale of laughter.
Handshakes and photos all round, and we all part smiling. This has been a unique occasion. If global philanthropy is led and inspired by people of such charisma, there is hope yet.
E-mail to a friend