(CNN) -- The Reserve Bank of Australia on Tuesday cut its cash rate, or overnight money market interest rate, by 1 percent to 3.25 percent in an effort to stimulate demand and cushion the nation's economy amid a global recession.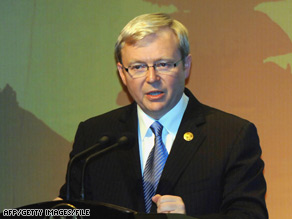 Kevin Rudd's government unveiled a "nation building and jobs plan," as the central bank cut its cash rate.
It is the central bank's fifth rate cut in as many months -- sharply down from 7.25 percent in March 2008 -- and comes on the heels of a $42 billion (US $26.5 billion) stimulus package announced earlier Tuesday.
The new key rate now will take effect Wednesday.
Gov. Glenn Stevens of the Reserve Bank of Australia said in a statement that he considered the rate cut appropriate given the "significant deterioration in world economic conditions late in 2008."
Although calling the near-term outlook for the economy "the weakest for many years," Stevens said Australia's financial system "remains in a strong condition."
The "nation building and jobs plan" is aimed at supporting up to 90,000 jobs in the next year, with a long-term vision of investment in education, energy-efficient homes, social housing, small businesses, and infrastructure.
Don't Miss
A budget deficit of $22.5 billion (US $14 billion) is forecast for 2008-2009. "A temporary deficit is the only responsible course of action to support jobs and economic growth," according to a joint media release by Treasurer Wayne Swan and Prime Minister Kevin Rudd.
The plan would pay to insulate the ceilings of some 2.7 million homes; upgrade schools; give $950 cash payments to low and middle income households; boost local infrastructure projects; and give tax breaks for small businesses.

The government estimated that ceiling insulation would cut $200 (US $126) per year off household energy bills and reduce greenhouse gas emissions -- the equivalent of taking more than a million cars off the road by the year 2020.
The stimulus plan hopes to boost Australia's gross domestic product by 0.5 percent in the current fiscal year and up to 1 percent in 2009-2010.
E-mail to a friend

All About Australia • Reserve Bank of Australia • Australian Politics • Kevin Rudd