LONDON, England (CNN) -- Fears grew on Wednesday over a major investor in the beleaguered UK retail sector after talks with banks over its £1 billion ($1.44 billion) debt burden collapsed.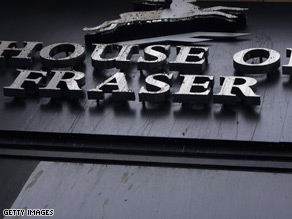 Baugur may be forced to sell its stakes in retailers such as House of Fraser.
Icelandic group Baugur, which has stakes in major retailers such as Hamleys and House of Fraser, has applied to enter the "moratorium" process in Reykjavik, which offers protection from creditors.
The "moratorium" process operates in a similar fashion to Chapter 11 bankruptcy procedures in the United States.
Baugur now has three weeks to find a way forward but its current woes could mean a sale of its UK retail assets.
Retail expert Nick Bubb, an analyst at Pali International, said Wednesday's announcement could mean several UK retailers changing ownership as Baugur tries to repay its bank debts.
"Baugur has no choice. It has to repay the banks and they are driving it," he told the Press Association.
"There should be enough interest in most of its chains to attract buyers, perhaps from private equity firms," he added.
The company said it had taken the action "in order to protect the group's assets as well as the interests of all creditors."
"The board of the company unanimously resolved to take this action following yesterday's decision by Landsbanki to discontinue discussions regarding a potential restructuring of the group," it said.
Poor UK retail figures and the crisis that saw the nationalization of Iceland's major banks last October have both hit Baugur.
E-mail to a friend