(CNN) -- Venezuela's government seized a local bank owned by Allen Stanford Thursday as politicians and banking regulators in the region attempted to quell panic after the flamboyant Texan financier was charged over an alleged multibillion dollar fraud scheme.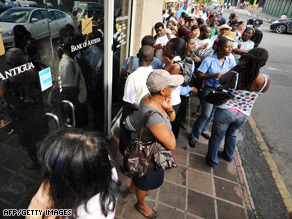 Customers queue outside the Stanford Group-owned Bank of Antigua in St. John's.
Customers in Latin America and the Caribbean have been lining up or logging onto online banking services to withdraw money from institutions owned by the Stanford Group.
The whereabouts of Stanford, who used his vast wealth to fund high stakes cricket matches in the Caribbean, remains unknown two days since he was charged by the U.S. Securities and Exchange Commission over the alleged $9.2 billion fraud.
In a press conference Thursday, Venezuelan Finance Minister Ali Rodriguez Araque said banking authorities had been forced to seize the Stanford Bank Venezuela as "extraordinary withdrawals" threatened to exceed reserves, according to the state-run ABN news agency.
But he said the bank would be put up for sale as soon as possible. "The financial system of Venezuela is completely stable and I urge Venezuelans to stay calm," Rodriguez said.
Similar scenes played out in Antigua, where customers lined up outside Stanford-owned banks to pull their money.
Finance Minister Errol Court said banking authorities on the Caribbean island, which had granted citizenship and given a knighthood to Stanford, had "collectively agreed on a plan of action to maintain and preserve the viability and stability of the financial system," according to Reuters.com.
In a statement issued Wednesday, the Antigua and Barbuda Bankers Association warned that further withdrawals by customers could destabilize the island's entire financial system.
Three of Stanford's companies and several senior employees also face SEC charges. According to the SEC, Stanford used the Antigua-based Stanford International Bank and a network of Stanford Group Company financial advisers to sell approximately $8 billion of "certificates of deposit" to investors.
The SEC also charged SIB chief financial officer James Davis and Laura Pendergest-Holt, chief investment officer of Stanford Financial Group. The third company named in the complaint is investment adviser Stanford Capital Management.

Watch more on the case »
SIB's Web site says its network has $51 billion in deposits and assets under management or advisement, with more than 70,000 clients in 140 countries.

In September, Forbes named Stanford No. 205 in its 400 Richest Americans article, saying he was worth more than $2 billion.
CNN made repeated attempts on Wednesday to reach Stanford and his attorneys. There was no response. Some media reports have put him in Antigua, where he has a home, but that couldn't be confirmed.
E-mail to a friend