By Peter Walker
For CNN





LONDON, England (CNN) -- Enrollment in business schools is booming as would-be chief executives and entrepreneurs sit out the worst of the economic slowdown with a year or two of invaluable study.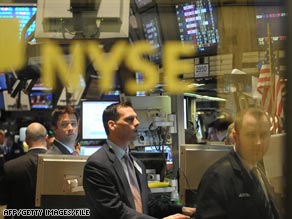 Thinning out: There will be fewer post-MBA jobs in financial services this year
But what of those finishing their MBA this year? For them, it's currently a slightly more gloomy picture, one highlighted by a new survey warning that some business school graduates could struggle to find their dream job when their program ends in a few months.
The poll of 77 business schools around the globe, produced by the MBA Career Services Council, which groups together careers advisory offices inside business schools, warns that it is currently a "buyers market" for recruiters.
Almost three-quarters of schools that responded said they had seen notably less recruitment activity in the key destination industries for business school graduates, namely financial services, private equity, banking and investment banking and real estate. Some companies might have a better idea of their future personnel needs in the coming few months, the survey indicated.
Half of all the careers services reported 10 percent fewer employment openings. A fifth of offices had seen a 20 percent drop. In contrast, only one in 20 of the careers services spotted any increased activity.
This has had an inevitable knock-on effect for current MBA students seeking internships, a traditional route into prime industries. A total of 62 percent of the careers offices predicted a decrease in most internships.
What is bad news for this year's graduates is, of course, a potential opportunity for businesses, noted Kip Harrell, president of the MBA Career Services Council, particularly smaller ones who might have been snubbed in the past by newly-minted MBAs from leading schools.
"For some companies, there is some good news in that they now can attract students from top tier schools that they may not have been able to afford in prior years," said Harrell, head of the careers service at the Thunderbird School of Global Management in Glendale, Arizona. "It's a buyers market for employers."
But even bigger companies traditionally seen as a prime destination for the top business school graduates should be wary of snubbing the sector too completely, he warned, and should look to the longer term for when the economy picks up speed again.
Fact Box
FT MBA Rankings
1= London Business School, U.K.
2= Wharton, U.S.
3. Harvard, U.S.
4. Columbia, U.S.
5. Insead, France/Singapore
6= Stanford GSB, U.S.
6= IE Business School, Spain
8. Ceibs, China 
9. MIT Sloan, U.S.
10. NYU, Stern, U.S.
Source: Financial Times 2009

"Obviously, employers don't want to miss out on any chance to keep their hat in the ring and keep their brand and its reputation on the minds of MBA students," he said.

Many jobs are still out there, Harrell added, but graduates would need to work extra hard to track them down: "Every student needs to realize that they need to be perfect in every aspect of their search. Failure to perform any career search step flawlessly will knock you out as a contender."

It was also, Harrell pointed out, a challenging time for his fellow careers advisers in schools, who had to prepare students for the challenging situation outside the campus gates,

"I think the biggest disservice we as career officers can do is not fairly and accurately present the realities of the situation," he said. "If we take some heat for presenting the truth, then that is OK - no one can accuse us of not warning them about the situation."

The survey comes in the wake of a similarly gloomy poll of recruiters late last year by the Graduate Management Admission Council, or GMAC, an industry body for business schools around the world.

That study found that 17 percent of the companies asked had not hired any MBAs who graduated in 2008, while 30 percent said they would not do so in 2009. Since the study was published the situation had got worse rather than better, a GMAC spokesman said recently.

E-mail to a friend