(CNN) -- Wall Street's benchmark Dow Jones index plunged Monday to close at levels not seen since 1997 -- after U.S. insurance giant AIG revealed monumental quarterly losses of $62 billion.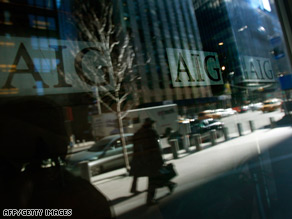 AIG's quarterly losses amounted to some $460,000 per minute.
AIG's results came hours after the U.S. government announced a $30 billion lifeline for the ailing company on top of $150 billion it has already received in bailout funding.
The U.S. government, saying it needed to prevent broad damage to the financial system, announced Monday it was again restructuring the bailout of AIG.
But the intervention did little to calm the nerves of U.S. investors, already reeling from bruising selloffs last week.
In New York, the Dow slid about 4.25 percent to close at its lowest point since 1997. It fell through the psychological 7,000 point barrier to close below 6,800, according to early tallies.
The S&P lost 4.7 percent, closing at its lowest point since October 28, 1996. The Nasdaq composite lost 4 percent but the tech-fueled index has held up better than the other major averages this year.
AIG dragged down other U.S. financial stocks, including Bank of America, Wells Fargo, Morgan Stanley, Goldman Sachs and JPMorgan Chase.

Watch why some say AIG is too big to fail »
Adding to the weakness was Billionaire investor Warren Buffett's annual chairman's letter, in which he talked about the tough 2008 his Berkshire Hathaway company experienced. The influential investor admitted that he "did some dumb things in investments" during the year.
The bleak financial outlook prompted dismal trading sessions in Europe and Asia.
In London, the FTSE hit six-year lows and closed down about 5.3 percent -- with banking stocks leading the slide.
HSBC shares shed up to 20 percent in value after the British bank revealed a 62 percent slump in profits to $9.3 billion and plans to bolster its capital base through a $17.7 billion shares issue.

Watch HSBC boss discuss profit slump »
Elsewhere, Paris' CAC 40 was down 4.5 percent while Frankfurt's DAX 30 was down 3.5 percent.
Don't Miss
HSBC CEO Michael Geoghegan told CNN he did not believe the global financial crisis was at its bottom.
"It is a deteriorating situation because there is a lack of funding for banks around the world , particularly in the U.S. and UK," he said.
Geoghegan added he thought HSBC, Europe's largest bank, was in a good position to take advantages of opportunities to build and the rights issue would secure its financial strength.
In Asia, Japan's Nikkei average finished the day down 3.8 percent, while Australia's All Ordinaries index closed down 2.8 percent. In Seoul, the KOSPI lost 4.2 percent and the Hang Seng index in Hong Kong dipped 3.8 percent.
AIG, which had 74 million customers at the end of 2007 and operates in more than 130 countries, received government funding totaling $123 billion in September when bad mortgage debts left it on the brink of collapse.
That sum was increased to $150 billion in November when the government revised its bailout package. AIG shares have lost 99 percent of their value in the past 12 months.
The U.S. government said it was overhauling its bailout to help the besieged firm unwind in an orderly way.
"Given the systemic risk AIG continues to pose and the fragility of markets today, the potential cost to the economy and the taxpayer of government inaction would be extremely high," the Treasury Department and Federal Reserve said.
AIG chairman and CEO Edward Liddy said that Monday's actions were necessary to tame fears that the insurer's customers and business relationships are at risk.
"We need to keep some confidence in the system," he told CNN. "What the Fed is doing through AIG is taking every step possible to keep confidence in the financial system."
The new rescue plan would help AIG conserve much-needed capital by, among other things, lowering the interest rate it pays on its government loans. Read more about AIG
Despite AIG's results -- the largest quarterly loss in corporate history, amounting to around $460,000 per minute -- analyst Robert Haines of CreditSights said letting the insurer fail was not an option because of the consequences for the wider financial system.
"The government really does not have the option of letting AIG totally blow up," Haines told CNNMoney.com. "The counterparties on most of the book are (European) banks that would be hammered if the U.S. walked away. Hopefully, the third bailout will be the charm."
Aside from AIG's problems, a slew of U.S. economic data due to be released this week -- including reports on housing, bank rescue efforts and the labor market -- is expected to reveal further details of the state of the world's largest economy.

Commerce Department figures provided some respite from the grim news with consumer spending for January rising by 0.6 percent after declining for six consecutive months. The report also showed that personal income rose 0.4% in January, following a decline of 0.2% in the previous month.
And the U.S. manufacturing sector activity rose unexpectedly in February, ending a full year of declines but still indicating contraction, according to the Institute for Supply Management.
E-mail to a friend

All About HSBC Group • Financial Markets • American International Group Inc.