PARIS, France (CNN) -- More than 1 million workers demonstrated in France to pressure the government to do more to combat the economic downturn, French authorities told CNN.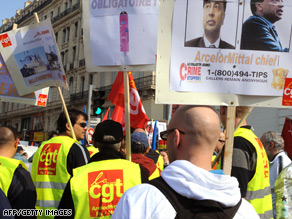 Workers protest in Marseille to demand a boost to wages and greater protection form the crisis.
Workers from the public sector, schools, and the transportation sector walked off the job Thursday along with some air traffic controllers. That was affecting air travel, particularly domestic flights.
Police estimated 1.2 million demonstrators participated nationwide, with 85,000 in Paris alone.
The CGT (General Confederation of Labor), France's largest labor union, estimated more than 3 million demonstrators nationwide and more than 200 demonstrations.
Subway trains and buses were operating, but regional trains were badly affected by the strikes.
It is the second major labor action in two months, after workers went on strike in January.
Strikes and protests were held in more than 200 cities and towns across the country.
The demonstrators' grievances are varied, but they are unified in their displeasure with the government's handling of the economic crisis.
President Nicolas Sarkozy told cabinet ministers Wednesday that he "understands the concerns of the French people," but that his government has ruled out new social spending, saying its top priority remains to protect jobs and industry, according to the French news agency, Agence France-Presse.
Sarkozy also rejected calls by unions and the opposition to suspend a 50-percent cap on income tax, arguing that it would drive wealthy taxpayers abroad, AFP reported.
E-mail to a friend

CNN's Jim Bittermann contributed to this report.