By Peter Walker
For CNN





LONDON, England (CNN) -- Over the past few years as banking and business CEOs around the world steered their corporations onto the rocks of recession, what exactly was it that gave them, almost to the end, an unshakeable confidence in their ability and judgment?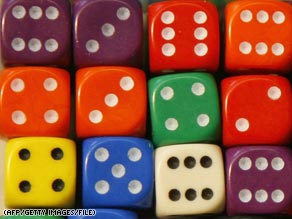 Delusions of grandeur: Those with perceived power believed they could shape the throw of a dice.
According to a new study it might just have been one thing: Power.
The research, carried out by faculty at a series of leading business schools and universities, found that when ordinary people were given an imaginary position of power, it not only boosted their self-esteem but also their conviction they could mould events, even those governed by chance, or global events, and thus clearly beyond individual control.
"One implication of this work is that powerful people shape our world not just because they have resources, but because they believe they can shape the world -- and therefore they try," said Nathanael Fast from Stanford Business School, who carried out the study with staff from London Business School and Northwestern University.
This can lead to trouble: "When someone takes on an air of invincibility after being promoted to a more powerful position, the effects on an organization can be devastating."
The first experiment took a group of people and randomly assigned them roles of power or non-power -- the first group was asked to write a description of a time when they had power over others, with the remainder asked to write about the opposite.
They were then instructed to predict the outcome of a die roll and offered the chance to either roll it themselves or let someone else do it -- every single person in the "high power" group rolled the die themselves against only 58 percent of the others.
"When people feel they can control the outcome, they want to roll the die. It's a classic measure of the 'illusion of control,'" said Fast.
In a separate study, participants were split randomly into the roles of manager and subordinates for a future role play but were then asked to take part in what they were told was an unrelated test. In it, they read about an organization and rated how much control they thought they could have working there, as well as how optimistic they were that the organization could do well.
Fact Box
FT MBA Rankings
1= London Business School, U.K.
1= Wharton, U.S.
3. Harvard, U.S.
4. Columbia, U.S.
5. Insead, France/Singapore
6. Stanford GSB, U.S.
6= IE Business School, Spain
8. Ceibs, China
9. MIT Sloan, U.S.
10. NYU, Stern, U.S.
Source: Financial Times 2009

Those named as managers were both more optimistic and had a sense of greater influence. Fast explains: "People with a position of power believed they could control outcomes that stretched beyond their actual power."

Another test again saw people write about either an experience of power or lack of power before taking a test on self-esteem. They then answered questions such as whether they would vote in the next election, to what extent they thought their vote would affect the outcome, and how much influence they believed they had over the national economy.

Again, those "primed for power" had both higher self esteem and a greater illusion of control.

The research paper itself urges some caution, noting that as executives rise through corporations they may "learn to curb their illusions." However, it is also possible that the self-deception might actually get stronger as time goes on, the authors warn.

There is a clear lesson for hubristic CEOs -- much as you cannot control the roll of a die you cannot control, say, the state of the stock market.

E-mail to a friend