LONDON, England (CNN) -- The Bank of England left its base interest rate unchanged Thursday, keeping it at a record low of 0.5 percent.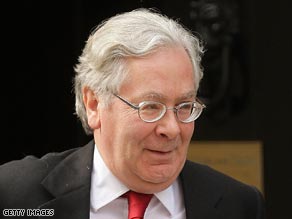 Mervyn King, the Bank of England's governor, is trying to pump money into the economy.
The bank, which is Britain's central bank, cut the rate to its current level a month ago. It had been the latest in a series of rate cuts since October 2008, when the rate was 5 percent.
The bank also announced Thursday that it would continue with its plan to pump £75 billion ($110 billion) into the economy, a measure known as quantitative easing. The plan is meant to encourage banks to lend funds again to each other as well as to individuals and businesses.
The plan involves the Bank of England "creating" more money on its balance sheet, then using it to buy banks' assets such as home loans and government bonds, pumping extra cash into the system.
Commercial banks all have accounts with the Bank of England, and the money is simply credited to those accounts.
The Bank of England said more than £26 billion ($38 billion) of asset purchases had been made so far, and that it will take another two months to complete the program.
E-mail to a friend