(CNN) -- The German government moved Thursday to nationalize the stricken Hypo Real Estate bank.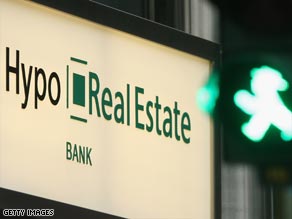 The German government has made an offer which would see Hypo Real Estate bank nationalised.
It has offered €1.39 ($1.84) per share in what will be the country's first nationalization since World War II.
The offer was widely expected after the government pushed through legislation earlier this month that gives it the power to takeover groups whose collapse could severely damage the financial system.
It also said in January that it planned to take control of HRE after the bank received more than €100 billion ($132 billion) in mostly taxpayer funding to prop it up.
The offer represents a 15.8 percent premium over HRE's closing share price on Wednesday.
HRE, which specializes in investment banking and real estate, has already announced plans to cut costs by €200 million ($264 million) by 2011 and €250 million ($330 million) by 2013.
Around 800 of Hypo Real Estate's 1,800-strong workforce are expected to lose their jobs by 201. A further 200 redundancies are anticipated in 2013.
E-mail to a friend