(CNN) -- Nokia, the world's biggest cellphone manufacturer, recorded its worst quarterly results in more than a decade Thursday on the back of plunging handset sales and a 96 percent drop in operating profits.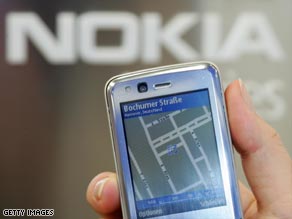 Nokia expects mobile manufacturers to see a 10 percent fall in handset sales in 2009.
Nokia posted first quarter operating profits of just €55 million ($73 million), down from euros 1.5 billion a year ago. Net sales for the quarter were also down 27 percent year-on-year.
But Nokia shares rallied in Thursday trading as the Finnish giant stuck to its bleak forecast for the mobile market in 2009, claiming that all manufacturers would see a 10 percent fall in unit sales and arguing that it was better placed to ride out the downturn.
"The lower sales volumes for Nokia and the industry, both year on year and sequentially, were primarily driven by the negative impact of the rapidly deteriorating global economic conditions, including weaker consumer and corporate spending, severely constrained credit availability and unprecedented currency market volatility," Nokia said in a press release.
In a statement, Nokia CEO Olli-Pekka Kallasvuo hailed the company's performance in an "exceptionally tough environment" and said the situation was becoming "more predictable" for the second quarter.
Nokia last month announced plans to cut 1,700 jobs worldwide as part of cost-cutting measures aimed at trimming expenses by €700 million ($924 million).
E-mail to a friend