By Kevin Voigt
CNN





HONG KONG, China (CNN) -- For gauging the economic health of China, Guangdong province is a canary in a coal mine.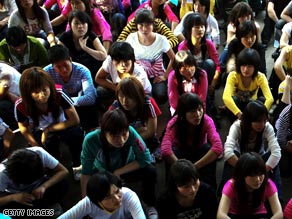 Young migrant workers crowd a Shenzhen human resources office for job placement.
Double-digit growth rates in China are now a thing of the past. The nation's first quarter gross domestic product grew 6.1 percent, the government announced Thursday -- down from 10.6 percent a year ago.
Nowhere is the slide more acute than in Guangdong, the southeastern Chinese coastal region across the border from Hong Kong. If China is one of the most important countries in the world economy, Guangdong has been its most important province. As recently as 2007, the province's exports accounted for 30 percent of the nation's trade as a whole.
China started its experiment in market-style capitalism in this once-rural province, sparking gross domestic product growth rates that averaged 14 percent a year from 1979 to 2007. But economic growth is braking fast there; first-quarter GDP rose only 5.5 percent this year.
"As the world economy slows down, it is areas like Guangdong that are the first hit," said Joseph Sveglich, assistant chief of economic for the Asia Development Bank. "It's very much a thermometer for world trade."
Guangdong province is the anvil on which the economic might of China was forged. If you've purchased a watch, shoes or a cell phone in the past decade, they're likely to have passed through the hands of a worker in boom towns such as Shenzhen, Guangzhou and Dongguan. An army of immigrant workers has turned Hong Kong border towns such as Shenzhen from a fishing village into a city of millions in the past three decades.
Some observers say the steep declines in business -- led by dwindling export orders from the United States and Europe -- may have a silver lining, helping the Guangdong economy evolve from high-polluting, low-wage industries toward cleaner, services-led industries.
"The downturn has had multiple blessings in disguise for Guangdong," said Harley Seyedin, president of the American Chamber of Commerce in South China.
The government has tried since 2007 to shutter low-margin companies by ending a series of government tax rebates, followed by changes in provincial labor laws last year that improved worker pay, benefits and rights, Seyedin said.

"You had thousands and thousands of companies that, in my opinion, were abusing labor and making their money on the back of abusing the environment," Seyedin said. "A lot of these companies were closing before the credit crisis."
Also, Guangdong is moving away from an export-driven economy toward focusing on domestic consumers. According to a chamber study released last month, fewer than 30 percent of businesses surveyed sold products in China in 2003. This year, 70 percent surveyed are focusing on the China market rather than exports, Seyedin said.
E-mail to a friend