(CNN) -- Losers outpaced winners on the new Fortune 500 annual list of largest U.S. companies.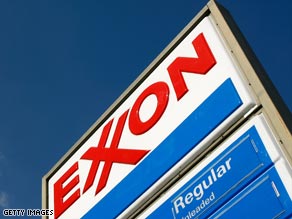 Exxon Mobil retakes the top of the Fortune 500 list.
Oil and gas giant Exxon Mobil retook the top spot. Wal-Mart, which ranked No. 1 last year, dropped to No. 2, followed by Chevron, ConocoPhillips and General Electric. Despite its $30 billion in losses last year, General Motors still ranked as the sixth-largest U.S. company, followed by fellow automaker Ford Motor, which lost $14 billion. AT&T, Hewlett-Packard and Velero Energy rounded out the Top 10.
The biggest money-makers were Exxon and Chevron, raking in $45.4 billion and $23.9 billion, respectively. Microsoft made $17.9 billion last year, for third place, followed by General Electric ($17.4 billion) and Wal-Mart ($13.4 billion)
biggest losers formed a who's who of businesses cratered by the credit crisis -- AIG, Fannie Mae and Freddie Mac lost $99.3 billion, $58.7 billion and $50.1 billion, respectively. They were trailed by General Motors ($30.9 billion), Citigroup ($27.7 billion), Merrill Lynch ($27.6 billion).
E-mail to a friend