LONDON. England (CNN) -- British retail giant Tesco has announced pre-tax profits of £3.1 billion ($4.5 billion), up 10 percent from the previous year.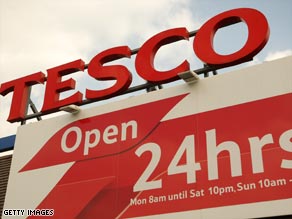 Tesco said it had made a "solid start" to 2009, with a 3.4 percent growth in like-for-like sales.
Overall sales for the year were up by 13 percent to £59.4 billion ($86.55 billion) -- taking sales to an incredible £1 billion ($1.45 billion) a week.
Its performance abroad -- particularly in Asia -- was equally promising, as overall international sales grew by 11.9 percent.
However, the news wasn't so good for the retailer's fledgling U.S. business. Trading losses at its Fresh & Easy stores more than doubled from £62 million ($90.3 million) to £142 million ($206.9 million.)
In a statement Tuesday, Tesco Chief Executive Terry Leahy said: "At a time when customers everywhere are feeling the economic strain, we are responding to their changing needs in all our markets by lowering prices, introducing more affordable products and offering even sharper promotions.
"These actions, combined with our core strengths -- in selling food and everyday essentials, owning our own property and having a broad business base -- are helping us to cope well with the effects of the downturn. We are also pleased with the early performance of Tesco Personal Finance under our ownership and with the converted Homever stores in Korea.
"As a result, we have delivered a solid sales and profit performance, both in the UK and internationally, whilst continuing to invest in our long-term strategy for growth."
The retailer added that it had made a "solid start" to the year, with a 3.4 percent growth in like-for-like sales for the first six weeks.
Tesco shares rose 4.8 per cent in early London trading.
E-mail to a friend

All About Tesco Corporation