LONDON, England (CNN) -- Britain's finance minister on Wednesday said the country's economy is facing its worst year since World War II as he unveiled measures including higher taxes for top earners in an annual spring budget aimed at countering recession.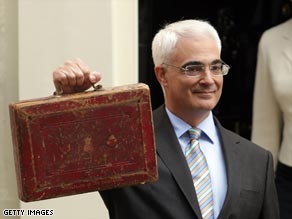 Alistair Darling says Britain's economy is facing its worst crisis in 60 years.
Laying out his government's strategy for investment and financial cuts for the coming year, Treasury chief Alistair Darling warned of further tough times ahead, insisting there were "no quick fixes" to the current crisis.
His plans drew immediate criticism from opposition leaders who said they showed the "utter mess" Prime Minister Gordon Brown had made of the economy.
Headlining his budget was a new top tax rate of 50 percent on incomes of those earning more than £150,000 ($216,554), with additional single digit percentage duty increases announced on alcohol, cigarettes and fuel.
Darling also proposed £9 billion pulic sector efficiency savings, as part of efforts to limit the damage of the massive borrowing undertaken by Prime Minister Gordon Brown's Labour government to bail out major financial institutions.
The treasury chief said while Britain's economy would show signs of recovery by the end of the year, the global financial crisis was the "worst in 60 years," wiping out previous forecasts of steady growth.
The economy is, however, expected to grow by 1.25 percent in 2010 and by 3.5 percent in 2011, Darling predicted.
David Cameron, leader of the opposition Conservative Party, attacked what he said was "the worst peacetime public finances ever known."
"Today everyone can see what an utter mess this Labour government and this Labour prime minister have made of the British economy," he said in a parliamentary debate following Darling's budget speech.
Other fiscal stimulus measures announced by the treasury chief include tax rebates to help loss-making business, a £750m investment chest for innovation and nearly £2 billion for helping jobless back to work.
Darling also unveiled a series of ecological packages aimed at fulfilling government environmental commitments -- including a £2,000 incentive scheme for people trading cars over 10 years old for brand new models.
E-mail to a friend