(CNN) -- European Union lawmakers voted Wednesday to slash the cost of texting and surfing the Internet on cell phones abroad.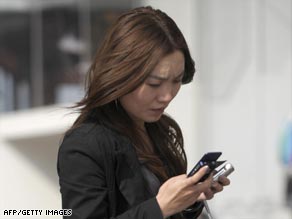 European consumers are expected to enjoy huge savings when using their cell phone abroad in the EU.
As of July 1, the cost of a text message sent from one EU country to another will drop from around €0.28 ($0.36) to €0.11 ($0.14).
According to a statement on the European Union's Web site, the age of consumers expecting "bill shocks" for downloading a picture or a movie from a cell phone while roaming in the EU is over.
The European Parliament, in its plenary session in Strasbourg, voted by a large majority -- 646 votes for and 22 against -- in favor of new EU rules on SMS and data roaming, first proposed by the European Commission in September last year.
It also voted for further cuts in the price of cell phone calls while roaming in another EU country. According to the EU, the present cap for a call made abroad will progressively drop from €0.46 ($0.59) to €0.35 ($0.45) per minute by July 2011, and from €0.22 ($0.28) to €0.11 ($0.14) for calls received while roaming abroad.
The new tariffs are expected to save European consumers up to 60 percent from their bill.
"I welcome the strong support the European Parliament has today given the Commission's proposal for creating a single telecoms markets for all Europeans, whether they are crossing a border as tourists or as business travelers," said European Commission President José Manuel Barroso.
"After this vote, Europe is now clearly the most attractive continent in the world for mobile phone users. I expect this to translate very swiftly into even stronger growth for mobile data services in the EU."
E-mail to a friend

All About European Union • Jose Manuel Barroso