(CNN) -- It was a photo finish, but South Korea surprised market watchers by narrowly avoiding recession.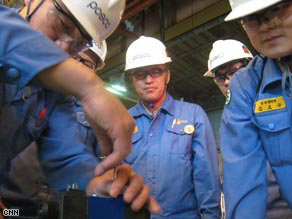 Korean manufacturers are retraining workforce to help bail out the ailing economy.
Instead of an expected downturn, Asia's fourth-largest economy squeaked out slight first-quarter GDP growth of 0.1 percent, rather than contracting by .2 percent as expected, according to the Bank of Korea.
This could signal good news for the global economy, because South Korea was battered harder than other Asian economies by the U.S. credit crisis.
The slight increase serves notice to other economies that government stimulus plans may be the way forward, as the South Korean government rushed through a $37 billion stimulus package last year.
"The larger interpretation of these surprising results is that government spending made a big difference. ... We saw rises in construction as well as consumption in (South) Korea," said Frederic Neumann, a senior economist for HSBC. "People can treat (government stimulus) with skepticism, but this is the first data point from the region which shows that government pump-priming does work."
That was also reflected in the South Korean equity markets, which are up 20 percent this year after falling 40 percent in 2008. Consumer spending was up 1.8 percent year-on-year this quarter, proof that "private consumption is not as weak as previously thought," Neumann added.
Economists say unprecedented interest rate cuts are helping, as well as the weak Korean currency, the won, which is providing a lifeline for Korean exports. For example, Samsung Electronics had better-than-expected first-quarter profits of $460 million, thanks to steady demand for handsets and flat-panel televisions.
As the Korean economy holds steady, the government has launched ambitious plans to forestall growing unemployment by calling on managers to take pay cuts and asking staff to stay fewer hours or work in shifts.

Watch South Korea's finance minister talk to CNN »
"We think that this is a very Korean way of dealing with the situation, because Korean people, in a crisis, tend to come together," South Korea Finance Minister Yoon Jeung-Hyun told CNN.
Critics fear the nationwide zeal to save jobs now could make companies inefficient later by keeping too many people on the payroll and not providing flexibility to react to global market forces.

Yoon disagreed: "We are not forcing it on them. What we are trying to do is provide incentives so that it is easier to make the choice."
At 4 percent, unemployment is at a three-year high in Korea, where unions are a strong force in the nation's politics.
E-mail to a friend

CNN Asia Business Editor Eunice Yoon contributed to this report.
All About South Korea • Bank of Korea • Economic Stimulus