By Peter Walker
For CNN





LONDON, England (CNN) -- The world, as most of us know by now, is facing a likely prolonged economic slump.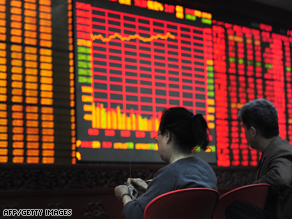 Visions of recovery? A securities exchange in Beijing.
According to the International Monetary Fund's (IMF) recent predictions, even a modest recovery won't begin until some time during 2010.
There is, however, one very slightly positive note amid the gloom. The IMF expects the economies of the globe's emerging economic giants, China and India, to expand this year, albeit at a slower pace than recent stellar levels.
So could the Asian behemoths drag the world out of recession? Some commentators are beginning to speculate so -- the chief economist of Goldman Sachs recently predicted a swift recovery for China in particular -- and now a leading business school has announced a conference to look into precisely this notion.
The event at Judge Business School, part of Cambridge University in the UK, which takes place later in May, is organized by the school's Center for India and Global Business.
Examining both how the nations' economies have reached their current level and, more pertinently, how they might fuel a worldwide recovery, it will examine the importance of innovation in the countries, and how their continued emergence will potentially reshape many industries.
Speakers include business school professors from the U.S. and India, as well as business executives based in China and India.
A second day of discussions will cover how the Asian nations are also having an increasing influence over global culture, and the impact for industries such as marketing and branding, and movies.
"Endowed with significant creative capacity and a large consumer base, India and China are rapidly reshaping the global knowledge economy of tomorrow," Jaideep Prabhu, Professor of Indian Business and Enterprise at the school, said in a statement announcing the event.
It is not, of course, all plain sailing, particularly within India and China, which have both relied on years of rapid economic growth to try and employ ever-growing numbers joining the workforce.
Some experts, even within the countries themselves, are questioning how fast they can recover given these internal pressures.
This is a particular concern inside China, where the 9 percent annual growth recorded for 2008 as a whole, while huge by most nations' standards, was deemed disappointing against an equivalent figure of 13 percent for the previous year.
Fact Box
FT MBA Rankings
1. London Business School, U.K.
2. Wharton, U.S.
3. Harvard, U.S.
4. Columbia, U.S.
5. Insead, France/Singapore
6. Stanford GSB, U.S.
6. IE Business School, Spain
8. Ceibs, China
9. MIT Sloan, U.S.
10. NYU, Stern, U.S.
Source: Financial Times 2009

Chinese government statisticians have already revealed that millions of internal migrant workers, who have flocked from rural areas to cities in recent years, have now lost their jobs.

"Out of the migrant workers that have returned home, about 20 percent have done so because the plant where they work has closed down or halted production because of the financial crisis," Ma Jiantang, the head of China's National Bureau of Statistics, admitted at a recent press conference.

As another indication of the pressures currently being faced, a leading Indian business school research group has just issued a study showing that the average salary for those leaving the country's schools this year is down around a quarter, a sharp turnaround from recent years of 20 percent-plus annual salary growth.

Some leading Indian schools reported salary declines of 30 percent or more for their graduates.

E-mail to a friend