By Peter Walker
For CNN





LONDON, England (CNN) -- Even in an era in which gender equality within business corporations is an officially-acknowledged -- if by no means fully realized -- idea, it seems there are some supposed distinctions between the sexes which are still ok to make.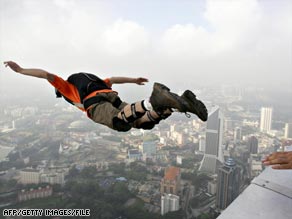 Open to risk -- a skydiver leaps off a building in Malaysia
One of these involves risk: Female managers, goes the maxim still trotted out in many business schools, are less likely to bet the company on an audacious gamble, or stack millions against received stock market wisdom.
This notion does have its advantages for women in the workforce. For example, a series of commentators have pondered whether the recent banking crisis would have been less catastrophic had there been more female CEOs diluting the culture of testosterone-fueled short-term profit maximizing.
One business school, however, begs to differ. New research by the Simmons School of Management, based in Boston, Massachusetts, contends that not only do female managers take more risks than believed, but that they should also more actively seek out credit for their boldness.
The school carried out a survey of more than 650 female managers who attended a major conference, asking them not only about the narrow, conventional view of business risk, related to hypothetical financial scenarios, but also wider opportunities taken in business and professional development.
The women were quizzed about areas including new jobs, or new programs and initiatives within existing employment, which necessitated either an unknown outcome or some other staking of a personal or business reputation.
Fully four-fifths of those surveyed said they undertook initiatives involving major change "sometimes" or "often", with only slightly fewer saying they had embraced a new program or new job.
"When you actually unpack the research, the finding that women avoid risk is based on very specific contexts and a limited concept of risk-taking actions," said Sylvia Maxfield, one of four staff members from the school who wrote the report, "Risky Business: Busting the Myth of Women as Risk Averse."
"By including contexts in which significant investments of time and money are placed in projects which require learning-by-doing, and where the likelihood of success is very hard to predict, we found women engaged in a lot of risk-taking actions," she said in a statement to launch the study.
The study examined some of the reasons as to why so much of the business world sees women as wary of risk. Factors noted including both a general tendency to ignore women's risks and also a tendency among female executives to avoid self-promotion in such behavior.
Fact Box
FT MBA Rankings
1. London Business School, U.K.
2. Wharton, U.S.
3. Harvard, U.S.
4. Columbia, U.S.
5. Insead, France/Singapore
6. Stanford GSB, U.S.
6. IE Business School, Spain
8. Ceibs, China
9. MIT Sloan, U.S.
10. NYU, Stern, U.S.
Source: Financial Times 2009

The authors actively advise women to try and take proper credit for their actions, for example by properly communicating what they have achieved and even allying themselves with known risk-takers within an organization.

Such actions would be more likely to lead to just rewards, said Maxfield: "Women embraced risk believing this would help them gain influence, higher compensation, and career rewards."

So what's best? Another school suggests something else -- compromise.

According to research by London Business School's Center for Women in Business, you achieve the best innovation within teams when they have an equal split between men and women.

E-mail to a friend