By Peter Walker
For CNN






LONDON, England (CNN) -- With the global economic downturn biting hard, corporations everywhere are looking around for costs to save, budgets to trim. It's thus little surprise that one area to suffer already has been business travel.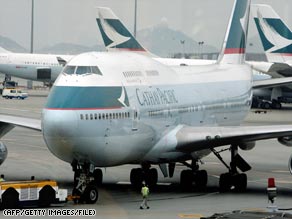 Traveling to distant lands: Companies should think twice about slashing travel budgets
The evidence is everywhere. As early as August last year, a leading UK company specializing in business trips warned of "challenging" trade conditions, saying many of its clients, banks in particular, were cutting back on sending executives abroad.
After a series of airlines warned that they were also feeling the squeeze, the International Air Transport Association warned in February that far fewer passengers were traveling business and first class, while business hotels have also reported lower takings.
All well and good in the era of global connectivity, in which colleagues can be connected digitally at the touch of a button inside the video conference suite? Well, yes and no.
A pioneering study by professors at two leading U.S. business schools warns that companies which cut out the possibility of face time between people in distant offices risk also losing out on a sort of trust and cohesiveness which can, the paper suggests, only be achieved when people get together in person.
Don't Miss
Based on dozens of interviews and 140 surveys among staff in a global chemicals company, the paper was intended to fill what the authors perceived as a gap in understanding in this area.
"You gain two types of knowledge when you spend time in another place," Mark Mortensen, a professor of Management at the MIT Sloan School of Management, told CNN.
"If, for example, you spend some time in Tokyo you learn about the customs, the way people work, their way of thinking. But there is also what we call reflected knowledge -- you also learn how the way they see you, the way your home office comes across."
"That was what you might call the big 'A ha!' moment," said Mortensen, who co-authored the paper with Tsedal Beyene from Harvard Business School.
"You see your home office as it comes across to others, and that can be very important in creating and maintaining mutual trust."
Fact Box
FT MBA Rankings
1. London Business School, U.K.
2. Wharton, U.S.
3. Harvard, U.S.
4. Columbia, U.S.
5. Insead, France/Singapore
6. Stanford GSB, U.S.
6. IE Business School, Spain
8. Ceibs, China
9. MIT Sloan, U.S.
10. NYU, Stern, U.S.
Source: Financial Times 2009

Whether this level of mutual trust can be built up within a week-long stopover or if it requires, say, a permanent presence, is currently being looked at, he added: "We're still not sure what the decay rate is -- for example do you get 80% of the benefit inside one week or does it help if you have an expatriate member of staff there for the long term? It's another piece of the puzzle."

The message to the corporate cost cutters, however, seems clear: think twice before you slash the travel budget as this might prove a false economy.

"It could be," Mortensen said. "I'm not saying you must always send employees to distant sites, and I certainly wouldn't say that video conferencing doesn't help, but it is something for managers to think about.

"There are costs and benefits to take into account -- you certainly don't want to get rid of travel without any thought. This study helps manager make an educated decision. Spending time in another office plays a key role in establishing and maintaining trust in cross-site collaborations."

E-mail to a friend