By Peter Walker
For CNN






LONDON, England (CNN) -- It is a paradox of recessions past: As economies point firmly downwards, there is often an increased demand for MBAs, as would-be CEOs decide the time is right to step back from the jobs market for a couple of years and gain new skills.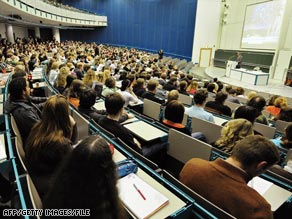 Back to school: Custom programs are holding up relatively well
The same appears to be true in the current downturn, with many business schools reporting strong interest in MBAs and other individual programs.
However, in an era of cost-cutting and budget tightening, schools themselves have had to be proactive to attract business; for example, helping companies cut costs by sending their staff out rather than hosting students on campus.
"You have to be flexible, and that's why, at the moment, I have members of my staff who are working all around the globe," said Bill Shedden, director of custom executive development at Cranfield University School of Management.
Another response has been for many schools to set up specific programs helping individual companies deal with the post-credit crunch world.
Don't Miss
There has also been an increased focus on using technology to reduce costs, for example with video conferencing, podcasts, and TV-based training via the Internet.
Many have also identified another important revenue stream: corporate training.
This generally comes in two forms, so-called open programs, generally short, specific courses on which anyone can enroll, and custom programs, tailored for the needs of a specific corporation or other client.
The gold standard for the best of the courses offered is the league table published annually by the Financial Times newspaper, the 2009 version of which has just been released.
Compiled by the London-based publication through surveys of both corporate purchasers and the schools themselves, the latest tables, which are split into separate open and customized rankings, feature many names familiar from MBA rankings, such as Harvard, INSEAD and Wharton.
Schools with a particular specialization in executive training, such as Brazil's Fundacao Dom Cabral, also appear.
The survey found that as corporations cut back on training amid a trim of all areas of their budgets, there has been an inevitable impact on business school revenues, with many talking of a cutback of around 20 percent.
"It has been a difficult time, and companies are cutting back on their training budgets. That seems to be a general trend," Jonathan Slack, chief executive of the Association of Business Schools, which represents leading UK schools, told CNN.
But the picture is mixed: While generalized courses appeared to have suffered badly, custom courses are holding up better.
Fact Box
FT MBA Rankings
1. London Business School, U.K.
2. Wharton, U.S.
3. Harvard, U.S.
4. Columbia, U.S.
5. Insead, France/Singapore
6. Stanford GSB, U.S.
6. IE Business School, Spain
8. Ceibs, China
9. MIT Sloan, U.S.
10. NYU, Stern, U.S.
Source: Financial Times 2009

"As ever, it really depends on what sector you are talking about," said Shedden, whose school Cranfield is rated by the FT as the 13th-best school in the world for custom courses.

"For general training programs, it is certainly not an easy time for schools throughout North America, Europe and the UK," he told CNN.

"But it's a very different picture for custom programs. Many companies are realizing that they have got to change, to get out of the recession in a different position.

"That focuses development. And even in these difficult times, a number are still committed to training their executives."

E-mail to a friend