By Kevin Voigt
CNN





(CNN) -- Rupert Murdoch's plan to put News Corporation websites behind a pay wall is "going to be like putting toothpaste back in the tube."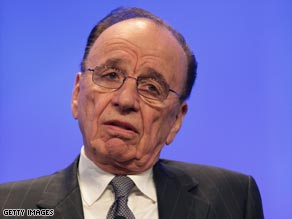 Murdoch said the existing Internet business model was "malfunctioning."
That's according to Jack Matthews, chief executive officer at Fairfax Digital Media, the online arm of one of the News Corp.'s biggest rivals in Australia.
"I don't know of too many industries where something has been given away for free for 10 or 15 years, and then suddenly charged for it," said Matthews, whose company publications include the Sydney Morning Herald and The Age.
Murdoch believes the days of freeloading through the Internet are coming to an end. In a conference call to analysts early this month, he announced that within a year he wanted the company's titles -- which include the New York Post, the Times in the UK and the Herald Sun in Australia -- to introduce charges for online access to stories.
"The current days of the Internet will soon be over," he told analysts.
What is Murdoch's game? Is this a money grab, or the act of one of the last media barons to save the ink-stained world of print? "I think it's to make money," Matthews said. "But the thing I will say about Murdoch's comment, I think he has very forcefully put (online pay structure) on the agenda for discussion."
Don't Miss
Free access to information isn't free. For this story alone, there were the long-distance calls, computers, electricity, wages, health benefits and at least two Starbucks lattes (grande size) involved.
The problem for media, especially newspapers, is that revenue earned from online advertising is not replacing cash lost by the departure of subscribers and advertisers. "There's the argument that you're creating a model that's not sustainable for the content creator," Matthews said.
Battle lines are beginning to form over whether news organizations allow their material to be used by aggregator sites such as Google News and Yahoo.
"On one hand, it gets you a lot of distribution, content and brands in front of a wider audience ... the flip side of the coin is why is Google News doing very well on the back of other people's investment," Matthews said. "The people who created the content are suffering the pain."
So far, Fairfax Media is following the lead of most other news organizations with the view that the benefits of sharing content with Google and other search engines outweigh the downside. "But that is something we are evaluating at on a day-by-day basis," Matthews said.
It's an irony of the information age that providers of information are the biggest losers. News Corp. International results showed that flagship papers in the U.K., The Times and Sunday Times, lost $1.5 million a week last year. Globally, News Corp. saw its latest quarterly profits slide 47 percent. It's a story played out in media organizations across the developed world.
"It's clear that the days of 30 percent profit margins are over," said William Yarker, director of media consulting for Deloitte in London. "The question with this recession is what is a cyclical change, what is structural change, and what would be an acceptable rate of return?"
One group betting that the media industry is ready for a change is Journalism Online. Led by Steve Brill, a journalist and entrepreneur who started Court TV, and Gordon Crovitz, the former Wall Street Journal publisher, Journalism Online is building an iTunes-like model for micropayments of media content.
"For those people who say it can't be done, there are examples of companies doing it every day," Crovitz said. "WSJ.com and the Financial Times have long done it. ESPN.org and Consumer Reports have successful premium content models. Publishers just need to decide what part of their access is worth paying for."
Murdoch and Journalism Online are stepping into a breach most media companies have feared to enter.
"The key question media organizations are going to have to ask: 'Do we think our content is unique enough that people will come to us to charge for it?'" said Yarker of Deloitte. "Once you're through that minefield, then how do you manage technology and processes so that is not a cause of failure?"

For Matthews at Fairfax, attempts to monetize page views may be too late for most news Web sites, but opportunities abound for new platforms such as mobile devices like iPhone and electronic book viewer Kindle. "I'm quite bullish about mobile devices," Matthews said.
"It's like the difference between cable TV news and free-to-air," Matthews said. "People thought they wouldn't pay for something that was free, but it succeeded because of the convenience factor ... if you weren't home by 7 p.m., you didn't miss the news."
E-mail to a friend