By Kevin Voigt
CNN





(CNN) -- Every time you look around, seems like companies are trying to hook up.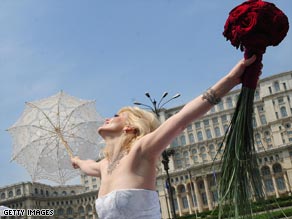 The euphoria of marriage quickly wears off for companies that merge.
The proposed marriage of AirFrance-KLM and Delta Air Lines is the latest to make the rounds. But the suitors must first gain the approval of regulators, who are sure to supervise the courtship with care because of the size of the dowry: North Atlantic air traffic, which the airlines plan to operate as one carrier.
But as high-profiles merger plans proliferate in the wake of the credit crisis, one problem seems to be overlooked: corporate mergers fail more often than marriages.
Divorce rates vary according to country, educational levels and income, but generally hover between 40 percent and 50 percent in North America and Europe. Conversely, a 2004 study by Bain & Company found that 70 percent of mergers failed to increase shareholder value. More recently, a 2007 study by Hay Group and the Sorbonne found that more than 90 percent of mergers in Europe fail to reach financial goals.
"If the definition of a successful merger is driving up shareholder value, then their failure rate is far north of 50 percent," says Lawrence Chia, a managing director of Deloitte & Touche in Beijing, China.
The path from the altar is strewn with failed corporate marriages: Daimler and Chrysler, AOL and Time Warner, Shanghai's SAIC Motor Co. and Korea's Ssangyong Motor Co. (which filed for bankruptcy protection this year).
Still, the matchmaking continues apace. British Airways and Spanish carrier Iberia have been wooing one another for the better part of a year. In March, pharmaceutical giants Merck and Plough-Schering announced their intention to wed, coming on the heels of the union between drug makers Pfizer and Wyeth.
Fiat has ambitious plans to merge with Chrysler and the European operations of General Motors to spin off into a new car company. And the on-again, off-again plans of Porsche and Volkswagen to tie the knot have been dominating the business pages for months.
Yet touted synergies of corporate unions remain elusive. "I was having lunch at a forecasters' conference in London with a group of analysts, and we were trying to think of any automobile merger that has been successful," said John Bonnell, of JD Power and Associates.
The group could only think of two: The formation of General Motors in 1908, which folded together Buick, Oldsmobile, Cadillac and several other independent companies; and Volkswagen with Skoda and SEAT in 1990.
Don't Miss
"I think the industry does need consolidation, but that means bigger companies with more efficiencies ... the question is are we gaining those efficiencies?" Bonnell said. "If you're not integrating into one organization, you're not accomplishing that ... with Daimler and Chrysler, they never really integrated."
For Fiat, the merger could transform a once broken down company into one of the world's largest car companies. For struggling Chrysler and the European division of GM, it would be a marriage of convenience.
Companies merge for a variety of reasons: expansion of market share, acquisition of new lines of distribution or technology, or reduction of operating costs. But corporate mergers fail for some of the same reasons that marriages do -- a clash of personalities and priorities.
"One of the biggest failings is people," said Chia of Deloitte. "The people at Company A have a different way of doing things from Company B ... you can't find commonality in goals."
E-mail to a friend