(CNN) -- A deal between mining giant Rio Tinto and Chinalco, a state-owned Chinese aluminum company, was called off after it became a hot-button issue in Australian politics.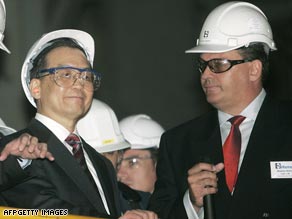 Chinese Premier Wen Jiabao on a 2006 tour of a Rio Tinto plant in Western Australia.
Meanwhile, Rio Tinto announced it has signed a non-binding agreement with BHP Billiton for iron ore production in Western Australia. BHP will pay $5.8 billion when the deal is closed, a Rio Tinto announcement said.
The $19.5 billion deal with Chinalco was signed in February and was awaiting a June review by Australia's Foreign Investment Review Board. In recent weeks, opposition party members had opposed the deal, claiming it puts Australian resources at strategic risk.
Others saw the deal as a strategic alliance that would help further link resource-rich Australia with the commodities-hungry Chinese market.
In recent years, China has become Australia's largest trading partner. Prime Minister Kevin Rudd, a fluent speaker of Chinese, has been criticized by opposition party members for harboring too close a relationship with the growing economic power.
The break-up of the deal recalls the failed takeover bid of state-owned China National Offshore Oil Company to purchase U.S. oil company Unocal in 2005.
By breaking the deal, Rio Tinto will pay Chinalco $195 million.
E-mail to a friend

All About