By Mark Tutton
For CNN





LONDON, England (CNN) -- Jon Ven Johnson is a Texan working in Laos, where he helps disadvantaged young people build a career. But Ven Johnson isn't an aid worker. He's an MBA with a background in management consultancy and what he's offering isn't charity -- it's years of business experience.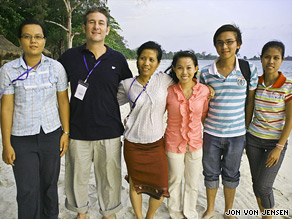 Jon Ven Johnson (second from left) with the DDD finance team in Laos.
Ven Johnson, 41, is working as a consultant for Digital Divide Data (DDD), a non-profit company that trains disadvantaged youths in Cambodia and Laos and gives them jobs carrying out IT services for international clients.
He found the position through MBAs Without Borders (MWB), a Canadian not-for-profit organization that matches MBAs from around the world with small businesses and not-for-profits in developing countries.
The idea is that MBAs can help small businesses and not-for-profits by providing the know-how and experience needed to help them grow.
MWB was founded in 2004 by Tal Dehtiar and Michael Brown, themselves MBAs. Dehtiar had previously worked on community projects in Belize, Costa Rica and Chile and wanted to create a way for business professionals to use their skills to have a positive impact in the developing world.
"MBAs have been trained in how to build a business and create sustainability," Dehtiar told CNN. "They have these amazing skills that are not always utilized, or showcased, for the good.
"I really believe that business might be the one way we can alleviate poverty. I don't believe the answer is handouts, but in developing and supporting businesses that can grow and hire 100 or 500 people. Think about all the families they affect."
Don't Miss
If a small business or non-profit decides it could benefit from the services of an MBA they can approach MWB with their requirements. If the project is deemed suitable, the position is posted on MWB's web site and MBAs can apply for it, just like a regular job.
But an MBA doesn't come for free. MWB pays the MBA's air fare, health insurance, vaccines, and a monthly stipend of $500 to $1,000. In keeping with its business ethos, MWB expects the employer to pay at least part of the costs, with the remainder funded by donations through foundations, corporations, MBA programs and individual donations.
It was through MWB's web site that Ven Johnson found his position as Finance Capacity Builder with DDD. By training young people who grew up as orphans, or come from impoverished villages and providing them with well-paid IT jobs DDD gives them with a way out of the poverty trap.
Do you think MBAs can help fight poverty? Sound Off below.
DDD has grown from an informal organization with 50 staff to employing 500 people in three countries. Ven Johnson began working as a consultant for the company in March and his role is to assist in its transition to a global organization.
"I bring the knowledge of how a business should run according to Western standards -- specifically, how finance departments are structured, the typical financial reports that should be produced each month and what measurements they should be watching to help them gauge their success," he told CNN.
He is also passing on his knowledge to DDD's finance director so that the company can continue to progress once his six-month contract has finished.
He says the most rewarding part of his job is spending time with the trainees. "Part of my job is getting to know them, eating lunch with them, helping them practice their English, getting them comfortable with Westerners and treating them with respect, which helps build their confidence."
Fact Box
FT MBA Rankings
1. London Business School, U.K.
2. Wharton, U.S.
3. Harvard, U.S.
4. Columbia, U.S.
5. Insead, France/Singapore
6. Stanford GSB, U.S.
6. IE Business School, Spain
8. Ceibs, China
9. MIT Sloan, U.S.
10. NYU, Stern, U.S.
Source: Financial Times 2009

After years of working as a management consultant in Houston, Texas, Ven Johnson and his wife, who also works for DDD, decided to use their skills to give something back. In 2007 they moved to Cambodia, before discovering MWB and landing the job in Laos.

"I loved being a management consultant but I asked myself, 'How am I making the world a better place?' I was putting money in shareholders pockets and helping a company create a good product -- that's alright, but I thought, 'What if I used the same skills to really make an impact on the lives of people who really need it?'"

According to Dehtiar, that kind of thinking is becoming more commonplace. "We're definitely seeing an increase in applicants," he says. "We're seeing a huge trend right now in MBAs saying they want to make a difference while doing well."

He says MWB will be involved in 100 projects this year, from Laos to Nicaragua, and that it receives between 50 and 100 applications from MBAs for each position advertised.

"When we first started we got laughed at. We even got some hate mail, saying MBAs are unethical, that they exploit developing countries," says Dehtiar.

"It's not our aim, but hopefully in some small way we're also changing the way people perceive MBAs. Just the idea that business can do amazing things and that MBAs can be leaders in ways we never realized."

E-mail to a friend