By Matt Ford
For CNN





(CNN) -- With its belching exhausts, acres of tarmac track and tendency to truck tons of cars and equipment around the globe to compete, motor racing could easily take pole position as the world's least environmentally friendly sport.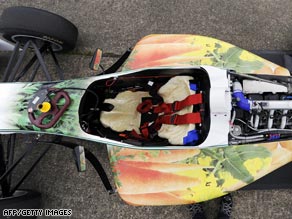 Potato fuselage?: A look down into the cockpit of the WorldFirst Formula 3 racing car.
But the builders of a new racing car say their invention offers a chance to be more eco-friendly at the racing track -- with a steering wheel made from fibers derived from carrots, a fuselage made from potatoes and even a seat made from soya beans.
The new Formula 3 vehicle has moving parts greased with a plant oil-based lubricant and its engine is powered by biodiesel.
"It's been very exciting working on the project and important that we've been able to develop a working example of a green motor racing car," said James Meredith, project manager of the WorldFirst team from Warwick University, in Coventry, Great Britain, which designed and built the car.
"We've been able to show that performance doesn't need to be compromised when developing sustainable motor vehicles."
Although the car isn't yet eligible to compete in Formula 3 because of its biofuel engine, Meredith is determined to see it race.
"We hope to enter the car in demonstration events and hill climbs," he said. "We certainly want to get a professional driver on board. As time passes it's becoming quite clear that the car is really quite competitive in terms of its pace, and we're getting offers left, right and center -- so who knows?"
But the car hasn't always been this popular. Although it was built with help from commercial partners in the motor industry, Meredith said that despite their willingness to get involved, the overall attitude to the product was one of cynicism.
"To begin with everyone in the industry was very dismissive," he said. "They'd say, 'we're motor racing, we can never be green. We burn fuel, throwaway tires and smash things up.' But that's changed -- I think many of our partners have been influenced by what we've done.
"No one's saying motor racing is going to change overnight, but our work is a step in the right direction. We have definitely opened people's eyes."
Promoting alternative manufacturing technologies and the pioneering work of Warwick University to the wider world was one of the main drivers behind the decision to build the car.
"My boss said to me, 'instead of showing people little bits of plastic, let's build a car.' It's been received really well. Everyone seemed to be interested; it's quite a media friendly thing," he said.
"We call it a technological demonstrator -- it's a very good way of showing off what we do to the widest number of people. If you show people bits of materials, they won't be very interested. Show them a car, and they're much more receptive."
The ultimate goal is to use the car to prove to the motor industry and wider public that plant-based materials have real potential in vehicle manufacture.
"The technology in the car has applications all over; certainly within the motor racing industry. But there are also a number of possibilities within normal road cars as well," Meredith said.
"I'd be very surprised if we didn't see some of it ending up in cars and buses."
But building cars from vegetables isn't only the greener option -- in some case it may have other benefits for drivers.
"Some of the materials we use do have beneficial qualities over synthetic materials. Take flax for example. In terms of stiffness it's no better than a carbon fiber. But it does absorb vibrations much better. So, when you mix flax and a synthetic fiber, you get a material with a performance advantage."
With global food prices currently on the rise, diverting edible crops to build cars is controversial, but Meredith is adamant his car hasn't fallen into that trap.
"We didn't want to use food products directly," he said. "We tried to stick to materials that were derived from food waste or crops grown specifically as fibers, such as flax.
"There is no doubt if you use food crops you are potentially taking food from people's mouths."
Only time will tell what effect the WorldFirst car will have on the industry.
Ironically the catalyst for taking what is at the moment still experimental technology into the mainstream may well turn out to be the motor racing industry itself, with its engineering expertise and resources.
"One thing you can be certain of, when motor racing takes on a technology they develop it to the limits; all they are interested in is performance," Meredith said. "So if they did get behind this, it would be really interesting to see what they did with it."
Consumers worldwide have shown an increasing interest in smaller, more fuel-efficient cars. Motor racing, however, has yet to show any sign of a significant shift in its cars. Something, Meredith said, that has to change:
"I don't think motor racing can carry on as it is, burning fuel and carting hundreds of tons of kit around the world in the name of sport. Ultimately, it will have to go in this direction. The question is, can they move quickly enough?

"I really hope that a lot of what we have pioneered will become standard in motor racing, and incorporated into a lot of road cars.
"If we can get away from the petroleum economy, and use our waste for power and stop burying things in the ground -- or at least if we do, use the methane produced -- that would be fantastic."
E-mail to a friend