By Kevin Voigt
CNN






(CNN) -- The European Union and United States accused China of restricting the export of key raw materials used in the production of steel and other industrial products in a complaint filed Tuesday with the World Trade Organization.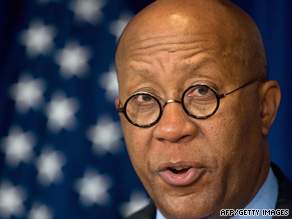 U.S. Trade Representative Ron Kirk on Tuesday in Washington announces a WTO dispute against China.
China defended the practice Wednesday on environmental and conservation grounds.
"China's policies on these raw materials seem to put a giant thumb on the scale in favor of Chinese producers," U.S. Trade Representative Ron Kirk said at a Tuesday news conference in Washington.
"The Chinese restrictions on raw materials distort competition and increase global prices, making things even more difficult for our companies in this economic downturn," EU Trade Commissioner Catherine Ashton added.

Watch more about the accusation against China »
China defended its policies as necessary to "protect the environment and natural resources," but said it would enter into consultation with the European Union and United States on the matter. Consultation is the first step in a WTO dispute resolution process.
The complaint underscores China's growing influence in world commodities trade. It is also reminiscent of similar disputes between Japan and the United States in the 1980s as the Japanese economy was on the rise.
The complaint involves the export of bauxite, coke, fluorspar, magnesium, manganese, silicon metal, silicon carbide, yellow phosphorus and zinc.
"These are key inputs for numerous downstream products in the steel, aluminum, and chemical sectors across the globe. China ranks as a top global producer of these materials," Kirk said.
"Restrictions on raw materials give Chinese companies an unfair advantage, as downstream industries in China have access to cheaper materials than their competitors outside China," the EU Trade Commission said in a written statement.
The claim suggests China sets minimum prices and tariffs of up to 70 percent on some of these raw materials in violation of WTO fair trading rules.
For example, China produced 336 million tons of coke -- a material used in steel production -- last year but only exported 12 million tons, Kirk's office said. The United States alleges the tariffs and pricing restricted coke export and allowed Chinese steel manufacturers to produce a ton of steel for $268 less than foreign competitors.

China has been a member of the WTO since 2001. Washington claims that China, at that time, "specifically committed not to place limits on who can export products."
Since China joined, the United States has filed seven cases against the nation; China has filed four against the United States.
E-mail to a friend

All About World Trade Organization • Trade • Trade Policy • China