By Hilary Whiteman
CNN





(CNN) -- The global economy is nearing the bottom of its worst financial crisis in 60 years, according to the latest assessment from the Organization for Economic Cooperation and Development (OECD).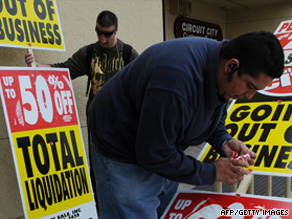 The OECD has predicted a slow recovery in the U.S. next year after a contraction of 2.8 percent in 2009.
The group, which covers 80 percent of the world economy, said the unprecedented policy measures taken by governments to avert complete financial meltdown had worked, but it was likely that the recovery would be "slow and fragile."
In its most upbeat assessment in two years, it expressed "guarded optimism" about the future, but warned governments must tread carefully when it comes to unwinding emergency measures to ensure their economies don't slip back into recession.
"Clearly policy stimulus needs to be phased out, but we can't really do so before the economy is sufficiently robust to withstand the phasing out," said Jorgen Elmeskov, acting chief economist for the OECD.
The group predicted that gross domestic product (GDP) across the OECD would shrink by 4.1 percent this year. Still, it said said the world's largest economies were showing signs of recovery.
A huge injection of fiscal stimulus in China was paying off, prompting the OECD to revise up its GDP growth forecast by more than one percent to 7.7 percent in 2009.
Don't Miss
The group also tempered its forecast for a contraction in the U.S. economy in 2009 to 2.8 percent, against the four percent decline predicted in March.
"The U.S. economy looks to have adjusted faster than we expected and we would now expect that in the second half of this year we'll reach stabilization of activity and then we would have a slow recovery through next year," Elmeskov told CNN in an interview with Quest Means Business.
"Fundamentally, it's still the same kind of scenario that we look at. It's just that the bottom is a little less deep," he added.
Ken Rogoff, professor of economics at Harvard University told CNN that the unprecedented nature of the economic downturn had left the U.S. Federal Reserve without a blueprint of what to do next.
"They've never done this before. They didn't just cut the interest rate they've been going out and basically buying loans in ways we haven't seen. Their models don't tell them how to calibrate it," Rogoff told CNN.
"So they could easily make a mistake. We could end up with deflation, inflation lower or even negative. But that's not really the issue, they can live with that. The issue is 'what do they want to do?'... I don't think they know yet."
Quest Means Business
Quest Means Business is the definitive word on how we earn and spend our money.
Monday to Friday, 1800 GMT, 2000 CET, 0300 HK.

Elmeskov told CNN the OECD was not worried about the prospect of inflation, nor deflation.
"Frankly we don't lose much sleep over either of these two. We have inflation coming down as a result of the big slack in the economies, but it is really only in Japan and a couple of other economics that we foresee a sustained process of deflation."
He said the huge volumes of liquidity pumped into economies by governments desperate to avoid financial meltdown will be scaled back "more or less automatically," a process that should ease concerns about inflation.
"To the extent that's not the case, the central banks can mop up the liquidity once the recovery is there," he said.
The OECD said despite efforts to pull the global economy clear of recession, permanent scars would remain in the form of a near three percent drop in trend output in the OECD.

"That is partly because we expect the crisis to permanently increase the cost of capital which again will lead to a less capital-intensive production," Elmeskov said.
The group said that would likely lead to a rise in structural unemployment, particularly in Europe.
E-mail to a friend