By Michiyo Nakamoto






Japan's new government is poised to halt the scheduled initial public offerings of Japan Post Bank, the world's largest bank by deposits, and its sister insurance company, according to the financial services minister.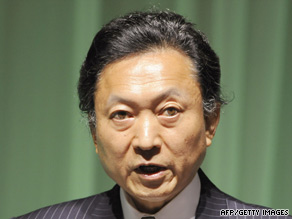 Yukio Hatoyama's Party of Japan won a landslide election last month.
The privatisation of the 138-year-old Japan Post was one of the landmark reforms pushed through by Junichiro Koizumi during his 2001-2006 premiership. The sell-off broke it the institution into four separate units and envisioned their sale to stock market investors as early as next year.
But Shizuka Kamei, the financial services minister in the Democratic Party of Japan-led government and the minister responsible for the post office, said on Sunday that the government would submit a bill this year "to freeze plans for selling shares in units of the postal group".
The move will put on hold one of Japan's largest IPOs of recent years. Japan Post Bank, which was expected to have a market capitalisation of several ­hundreds of billions of yen, and Japan Post Insurance were due to be fully privatised by 2017. Japan Post Bank holds some Y224,000bn ($2,454bn) in deposits.
The DPJ's opposition to the privatisation of the post office, and its appointment of Mr Kamei to both financial services and posts minister, has raised concerns that the party will turn the clock back on much-needed structural reforms.
Mr Kamei is a member of the New People's party and was appointed as part of the coalition formed by the DPJ with the NPP and the Socialists. He has been particularly vocal about the need to reverse course on postal privatisation. Formerly a member of the long-ruling Liberal Democratic party, Mr Kamei lost the party's support when he opposed Mr Koizumi's postal privatisation plans.
The minister has also been vocal on the need to support struggling small- and medium-sized companies, fuelling concerns that the government would adopt a socialist approach to the private sector.
Don't Miss
Of particular alarm to some critics have been Mr Kamei's remarks suggesting that the government would shelter SMEs facing financial problems via a temporary moratorium on loan repayments.
"When the lender is in trouble, we will rescue them with taxes and when the borrower is in trouble, we will grant them a reprieve [on their loans]. That is the natural thing to do," Mr Kamei told the Nikkei business daily at the weekend.

The DPJ has long said that it wanted to review the privatisation and restructuring of the post office. It believes the post office bank and insurance companies provide services better left to the private sector and opposes the way the companies were reorganised under Mr Koizumi.
That programme simply created "monster companies" with no clear business strategies, one DPJ staff member said.
E-mail to a friend

© The Financial Times Limited 2009
All About Japan • Taro Aso • Yukio Hatoyama