By Mark Tutton
For CNN





LONDON, England (CNN) -- Shoppers are more likely to buy a product if they are told that another item has sold out, according to a new study.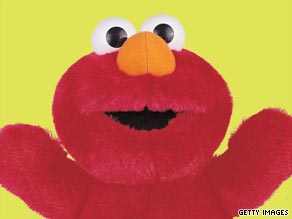 When a toy such as the "Tickle Me Elmo" sells out at Christmas, parents decide their children will want it too.
In one experiment, researchers found that 61 percent of subjects said they would buy a five-hour ski pass for $20, but 91 per cent said they would buy it when they were told a 10-hour ski pass for $40 had sold out.
Paul Messinger, professor at the University of Alberta School of Business, led the study. He told CNN, "When one product is sold out, customers have the perception that an available product might also sell out if they don't buy it now.
"It creates a sense of immediacy, which is a perfectly rational thought process, so the customer buys the other product."
The study revealed that sold out-products don't just convey urgency; they also signal to a customer that a product is desirable.
That effect is know as "herd behavior," which Messinger said can be illustrated by the way that certain toys become "must buys" at Christmas.
"When a toy like a 'Tickle me Elmo' sells out, parents infer that their child would like the product because other children do," he said.
Read more business related stories
Messinger said customers not only infer that a sold out-product is desirable, but that similar products must also be desirable, making them more likely to buy an item if a similar product has sold out.
His paper says other studies have shown that customers tend to be dissatisfied if they find a product is out of stock, because they perceive that as a problem with inventory management. But it argues that if retailers frame that lack of stock as a result of product uniqueness or scarcity, customers will respond more positively
Messinger says that while he wouldn't recommend retailers deliberately under-stock products to try to drive sales, shops shouldn't be afraid of an empty shelf, as long as they let customers know that the reason is an unexpectedly high demand for the product.
Likewise, he says manufacturers needn't be afraid of under supplying retailers. Spun the right way, selling out can be a positive marketing tool.
John Quelch, a marketing professor at Harvard Business School, has written about scarcity on his blog. He told CNN that creating an illusion of scarcity can help promote a product.
"Apple has attempted to use it several occasions with the release of its new products," he told CNN.
"You have lines of people outside Apple stores waiting for the latest iPhone, which adds to the hype around new product launch. So scarcity has value not just in its own right but as a basis for free PR -- it can become a story on the nightly news."
Quelch says that while manufacturers might not deliberately choose to undersupply a product, they can use scarcity to their advantage.
He gives the example of Volkswagen (VW) underestimating demand at the launch of its New Beetle. VW was able to use the car's scarcity as leverage with dealers, getting them to stock more common models such as the Golf and Jetta as a quid pro quo for receiving highly sought-after New Beetles.
Consumers drawn to VW dealers by the New Beetle often ended up buying other models, meaning the scarcity of the model boosted sales across the VW product range.
Retailers have long used the threat of a product selling out to encourage customers to buy, with messages such as "while stocks last" intended to create a sense of urgency. But Messinger says more innovative approaches are being used to convey scarcity.
Clothes retailer Zara, rarely stocks its designs for more than a few weeks meaning customers know that if they postpone buying an item, it may be not be in stock when they return.
Web sites selling airline tickets often include information about how many seats are left on a given flight.
"It's a very deliberate and sensible strategy," Messinger told CNN. "It creates a feeling of immediacy, buyer and seller both benefit, and it creates an incentive to buy."
E-mail to a friend