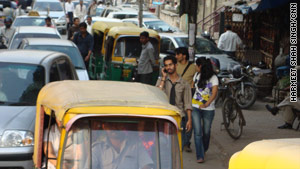 New Delhi has become the sprawling home of 17 million and more than half a million cars.
STORY HIGHLIGHTS
New Delhi is home to about 17 million people and half-a-million vehicles
Businesses are being evicted to make way for Commonwealth Games
The 2010 games are expected to bring 100,000 tourists to the city
Officially Delhi has 129,000 industries, but more than 95 percent aren't registered
New Delhi, India (CNN) -- It's a city jostling for space -- and work.
Welcome to the Indian capital of New Delhi, home to about 17 million people with more than half-a-million vehicles zigzagging its crammed roads.
Drawing a distinction between what locality is commercial and what is not is hard here since businesses are mostly everywhere, literally.
What one needs is space -- be it a home, a paved drain, a footpath, a park, or a road -- and one can put it to commercial use with little hassle.
Kumar Gaurav is an example. He is one of at least a dozen vendors who have turned the immediate vicinity of a station of New Delhi's sophisticated Metro rail network into a fruit market.
Gaurav, 18, says he, like his competitors, would pay 50 in Indian rupees or about $1 daily in bribes to officers to be able to stay put his cart.
On the other side of Delhi, Rakesh Kumar and numerous others in the same occupation now face eviction because their mobile fruit market just happened to have been running -- over years -- along what now is a site for a project for the Commonwealth Games, a global event scheduled in October in 2010.
The congested Indian capital, spread over about 1,500 square kilometers, expects about 100,000 tourists and 9,000 athletes and officials from the 52 Commonwealth countries for the games.
New Delhi is in a rebuilding mode especially where events are mostly concentrated.
Authorities are building 26 new training venues for different sports disciplines. According to the Commonwealth Games 2010 Web site, 16 other training facilities are being upgraded as per schedule.
It says 17 sports disciplines will be held in existing 11 facilities, including five stand-alone venues.
In terms of civic infrastructure, Delhi's airport is being modernized. A new high-tech 4.43 km runway, which the Games organizers call the longest in Asia, is operational already.
By next year, the airport is proposed to be linked to the city center with a dedicated Metro line. All Metro stations in the national capital are planned to be Wi-Fi enabled.
Flyovers, streets and roads -- otherwise notorious for developing cracks in slight rains -- are being built and rebuilt.
India may have been slow, but it should be able to make it now, experts feel.
"There's considerable improvement now (in the pace of work) and hopefully it would be successful," said Vijai Kapoor, Delhi's former lieutenant-governor.
But Kapoor restricted his optimism to the holding of the Commonwealth Games in New Delhi.
"I won't have tall expectations (beyond that)," he remarked, referring to how the Indian capital is struggling to cope with an exploding population and chaos.
Figures posted on the Delhi government Web site show that the city received 233,000 migrants from other states -- apparently in search of work -- in 2006, a number higher than the population growth that took place naturally that year here.
Also, officially Delhi has 129,000 industries, but more than 95 percent of the city's workforce is believed to be engaged in activities like Gaurav's and Kumar's - part of India's massive informal sector.
India has overburdened its capital, admits Kapoor. It just developed Delhi's existing neighborhoods as employment hubs that ended up "piggybacking" the city's strained infrastructure, he said.
Moreover, a non-execution of original plans to build at least 19 business centers within Delhi contributed to massive commercialization of the city's residential colonies, Kapoor added.
"Only four of five such centers came up. People needed space (to work) and they converted whatever they could get hold of (into workplace), legally or illegally."
It's time, he suggested, India thought of building new towns.