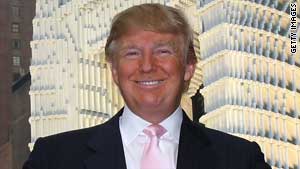 Winners of "The Apprentice" are mentored by Donald Trump, but you don't have be on TV to benefit from a mentor.
STORY HIGHLIGHTS
Having a mentor can give you a chance to learn from their professional experience
"Mentoring is the opportunity to think through your own issues," says David Megginson
You can find a mentor in your own company, from external contacts or using online social networks
London, England (CNN) -- It's not just winners of TV show "The Apprentice" who can benefit from the guidance of a mentor. Learning from someone with more professional experience than you can give you access to their accumulated wisdom, and allow you to learn from their mistakes.
The ideal mentor is someone who you respect, can connect with on a personal level, and who is willing to impart their knowledge. But don't expect them to solve all your problems.
Professor David Megginson, of Sheffield Hallam University, in England, told CNN that it's a mistake to expect your mentor to tell you what you should do in a given situation, simply because different people have different personalities and experiences. What's right for your mentor may not be right for you.
Instead, Megginson says a mentor's role is to help you to make sense of your own experiences.
"What's useful in mentoring is the opportunity to think through your own issues and what you want to do about them with somebody who has an understanding of your sector, or thinking about the kind of challenges you're going to face in the role you have," he told CNN.
"It's not helpful simply to tell somebody what to do. What a skilled mentor is trying to do is help the person become more self sufficient, not more reliant on the mentor."
What a skilled mentor is trying to do is help the person become more self sufficient, not more reliant on the mentor.
--Professor David Megginson
Megginson says many large companies have some sort of internal mentoring program. If your company doesn't have a mentoring system in place, it's possible to hire a professional mentor, but Megginson says the best option is simply to approach someone in your organization whose opinion you value.
If you can't find a suitable mentor in your company, you can always reach out to contacts from outside the organization.
Dr Elaine Cox, of Oxford Brookes Business School, in England, suggests approaching contacts who have impressed you at meetings and presentations.
And you don't have to limit your search to people working in the same city as you. Zulfi Hussain, editor of the book "Virtual Coach, Virtual Mentor," told CNN that technologies such as instant messaging and audio and video conferencing are letting people to connect with mentors based anywhere in the world
"More and more people are using this technology for mentoring," he said. "It's very cost effective, it hugely reduces travel time, and it opens up access to mentors and coaches around the world."
Hussain says social networking sites such as LinkedIn and Facebook can provide a way for individuals to reach out to potential mentors.
Zulfi Hussain told CNN, "Before you choose a mentor it's essential to have a clear idea of what your needs are, what kind of skill set you require, and what sort of personality you're looking to work with.

"The better the match between the mentor and mentee the better the results."

Once you've chosen a potential mentor, Dr Elaine Cox suggests you approach them for an initial mentoring meeting on a specific topic.

As the relationship develops, it can be more developmental.
"In an ongoing relationship the mentor can become nurturing, hopefully developing you beyond just sills and information," she told CNN.

For those looking for less formal mentorship, Web site Horsesmouth provides informal mentors who offer free online advice on a range of subjects, including careers, marketing and business.
Set up as a non-profit social enterprise, founder MT Rainey says Horsesmouth now has 20,000 registered mentors. While those offering advice aren't necessarily experts, Rainey says their advice can still be useful.
"Most people in life want to consult professionals and friends and family, but they also want to consult someone who's just another person who's been in that situation," she told CNN.
"Sometimes talking to someone who's been through that experience, who you don't have a personal relationship with, can be more constructive and free flowing than with someone you know."
While there is a risk of misguided mentors giving bad advice, Rainey says that hasn't been a problem.
"Because we've created a positive culture on the site, and because it's actively moderated and it's not a commercial business, mentors are very inclined to be positive, constructive and helpful," she told CNN.
"You're not trusting that person to the same level as you would a paid expert, but they might give a personal view that can add to your understanding of an issue."
While a mentee can benefit from their mentor's experience, it's less obvious what a mentor gets from the relationship. Cox says one attraction for mentors is the satisfaction of helping somebody else, but for some there's also a desire to leave a legacy.
"As people get older they don't want to feel that their ideas and ways of doing things are going to be lost when they retire.
"Some theory suggests that people actually need to share their ideas and support a younger generation, whether that's family members or junior staff in an organization."