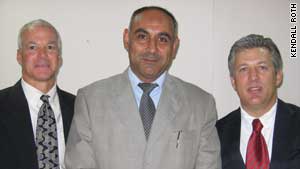 Left to right, Dr. Kendall Roth, Dr. Sabah Mahmood of Tikrit University, and Dr. Scott Koerwer.
STORY HIGHLIGHTS
A U.S. business school is collaborating with Tikrit University, in Iraq
Tikrit University has a shortage of books and modern teaching technology
Tikrit could become the first Iraqi university to be connected with a fiber optic network
London, England (CNN) -- A collaboration between a U.S. business school and an Iraqi university could help put Tikrit at the forefront of efforts to rebuild Iraq.
Tikrit University is struggling with a shortage of books, teaching materials and outdated communication tools.
Located about 100 miles north of Baghdad, the University of Tikrit, has 15,000 students but is struggling with a shortage of books, teaching materials and outdated communication tools.
But a partnership between Tikrit's College of Business, Administration and Economics and the University of South Carolina's Darla Moore School of Business is changing all that.
The collaboration was set up by Brett Bruen, of the U.S. embassy's Salah ad Din Provincial Reconstruction Team.
"What's unique about this is that we're trying to base it on mutual interest," he told CNN. "The University of Tikrit has a great deal it can offer the world in terms of knowledge of the economic climate, opportunities and risks in Iraq.
"By partnering with the University of Southern Carolina we hope they can establish a business research center that will produce some of the most well-informed and useful market research studies as Iraq emerges from the crisis and establishes itself as an attractive investment opportunity for international companies."
He said Tikrit is working on partnerships with other U.S. universities that would see it benefit from modern training and technology, in return for access to tens of thousands of documents and research papers that have never been seen outside Iraq.
Two Moore professors, Scott Koerwer and Kendall Roth, have just returned from Tikrit, and Roth was impressed with the Iraqi university's ambition.
He told CNN, "As a faculty group they seem to be really motivated to play a role in being another point of stability within the nation. They recognize that education has a role in that process and they would like to be able to offer a world-class education."
Roth also saw first hand some of the enormous challenges facing universities in Iraq. "It's a real struggle," he said. "There's a great shortage of books and cultural materials -- they're a decade behind in terms of access.
"They have a substantial segment of students coming into the university that are not particularly well prepared because of disruption in their education system, so they're struggling to find ways to get the students ready for the college experience."
The University of Tikrit has a great deal it can offer the world.
--Brett Bruen, Salah ad Din Provincial Reconstruction Team
University of Tikrit professor Ahmed Salih was one of those who met up with the Moore professors. He told CNN he hoped the meeting would lead to study and exchange programs between the two universities.
"The current problems [at the University of Tikrit] are represented by the lack of laboratories for computers, net service and the new technology used in teaching," Ahmed told CNN
"As our institutions are government-controlled and the budget is limited, we do not have enough classrooms and facilities for the students."
Roth said they hope to establish a telepresence between the two universities that would allow students from both universities to remotely view each other's lectures, as well as providing opportunities for joint research projects and discussion forums.
But Tikrit doesn't currently have the Internet bandwidth to support this kind of technology. Bruen told CNN that universities throughout Iraq suffer from limited Internet access, but the reconstruction team and military have plans to make Tikrit the first Iraqi university to be connected with a fiber optic network.
"It would allow them full access to scientific journals and really accelerate the information exchange process," Roth told CNN. "If they're relying on people traveling back and forth it would take decades to become up to date with the scientific community."
There are inevitably differences between the way business is taught at Tikrit and Moore. Ahmed told CNN that Tikrit's model is based around the teacher, whereas Moore's has more of a student focus, and Bruen said Iraqi business schools are still teaching a largely socialist curriculum, with a heavy influence of the old regime's economic philosophies.
But Roth says they have been careful not to assume that a U.S.-style business education is the right model for Iraq. Instead, he hopes to help Tikrit define the kind of course content and structure that will suit Iraq's cultural and economic needs.
Members of the Tikrit faculty will travel to Moore next January in the next phase of what Roth hopes will be a long-term relationship between the two universities, involving joint research partnerships and student exchange programs.
Roth told CNN, "There are a lot of misunderstandings between our societies and it's only when we begin building bridges that understanding begins to really develop."