(CNN) -- The Austrian government has taken control of a private bank with significant exposure to the alleged fraud by Bernard Madoff.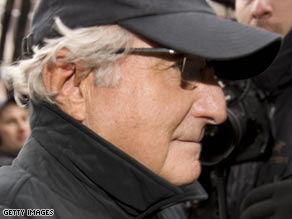 Bernard Madoff is under house arrest in New York after being charged with securities fraud.
Austria's market regulator, the FMA, installed a supervisor to take control of Bank Medici on Friday, saying the move would address the danger that the bank would not be able to pay its creditors.
Bank Medici, a private bank, announced in December that it had $2.1 billion in exposure to Madoff's investment securities through hedge funds run by the bank. Bank Medici also said its status was "solid" and that it had no liquidity problems.
The bank is 75 percent owned by its founder and chairwoman, Sonja Kohn, and 25 percent owned by Austria's largest bank, Bank Austria.
Austria's FMA also announced that Bank Medici's two managing directors, Peter Scheithauer and Werner Tripolt, resigned effective Friday.
Don't Miss
Kohn founded Bank Medici in 1994 after having founded other investment firms, according to the bank's Web site. She has served as an adviser to Austria's economic affairs minister, foreign affairs minister and the Vienna Stock Exchange, the bank says.

Watch Jeanne Moos report on how people are mad at Madoff »
Bank Austria, its institutional shareholder, is part of the UniCredit, one of Europe's largest banking groups.
Madoff is accused of bilking investors out of some $50 billion through a Ponzi, or pyramid, scheme that he allegedly ran through his global securities broker company, Bernard L. Madoff Investment Securities (BMIS).
Companies, banks, individuals and charities around the world have announced potential exposure to Madoff's alleged fraud.
Madoff remains in his Manhattan apartment under 24-hour house arrest. His $10 million bail was secured by properties owned by Madoff and his wife, including the Manhattan apartment and a Palm Beach estate.
E-mail to a friend

All About Bernard Madoff