By Ed Lavandera
CNN






(CNN) -- Robbie Tolan sits in a Houston, Texas, hospital bed with a bullet from a police officer's gun lodged in his liver. The son of a famed baseball player was shot in his own driveway.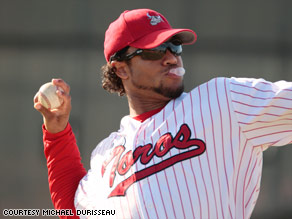 Robbie Tolan was shot December 31 by a police officer in his driveway. He was unarmed.
But how this unarmed 23-year-old and his cousin ended up in the cross-hairs of an officer's gun, suspected of stealing a car, is a question sparking allegations of racial profiling.
"There's no doubt in my mind that if these had been white kids this does not happen," said David Berg, Tolan's attorney.
It was 2 a.m. on December 31 when Tolan and his cousin, Anthony Cooper, were confronted in the driveway of their home by Bellaire, Texas, police officers. Police officials say the officers suspected the two young men were driving a stolen car.
Bellaire is a prominent, mostly white suburb in southwest Houston.

. Watch outrage over shooting of an unarmed man »
Robbie Tolan is the son of a once-prominent professional baseball player. His father, Bobby Tolan, had a 15-year career for the St. Louis Cardinals and Cincinnati Reds, spanning 1965 to 1979. He played on one of the most-heralded Cardinal teams ever: the 1967 World Series champs.
The younger Tolan is just starting to develop his own baseball career. He's played in the Washington Nationals minor league system and spent part of last season playing for the Bay Area Toros of the Continental Baseball League.
Don't Miss
Tolan's relatives say the two young men had just arrived from a late-night run to a Jack-in-the-Box fast food restaurant.
As they walked up the driveway to their home, Anthony Cooper said an unidentified man emerged from the darkness with a flashlight and a gun pointed at them.
"We did not know it was a police officer," said Cooper. "He said, 'Stop. Stop.' And we were like, 'Why? Who are you?'"
The officers ordered both men to lie down on the ground. Tolan's parents heard the commotion and came outside. Police will only say an "altercation" took place. Tolan's family say it involved his mother.
"The cop pushed her against the wall," said Tolan's uncle, Mike Morris.
Relatives say Tolan started to lean up from the ground to ask the officer what he was doing to his mother. That's when the family says Tolan was shot in the chest, the bullet piercing his lung and then lodging in his liver.
But Tolan's SUV wasn't stolen. Both men were unarmed and relatives say they were hardly a threat to the police officer. Anger over the shooting has been building over the last week.
"He was the victim of the worst case and worst kind of racial profiling," said community activist Quannel X.
The Bellaire Police Department has called the shooting "tragic" and put the officer involved in the incident on administrative leave.
"Anytime someone is injured we take it very seriously," said Byron Holloway, Assistant Chief of the Bellaire Police Department. "But any allegation of racial profiling, I don't think that's going to float."
The police department is investigating and the district attorney's office in Houston is also looking into whether charges will be filed against the police officer.
The policeman is a white, 10-year veteran of the force whom police say has an excellent record.
Bellaire Police officials are no longer talking publicly about the case. The department's assistant chief says they're investigating how the officers on the scene mistakenly determined that the SUV Tolan and his cousin were driving had been stolen.
Robbie Tolan remains in a Houston hospital. Relatives say he is in severe pain but is expected to recover. But his attorney says that Tolan's baseball career might be over.

Tolan's father isn't worried about that.
"I'm not concerned about his career as a baseball player. I'm concerned about his health," said Bobby Tolan.
E-mail to a friend

All About Racial Issues • Crime • Major League Baseball