(CNN) -- A man suspected of trying to fake his death by parachuting from a plane before it crashed has been indicted on charges of willfully damaging an aircraft and triggering a Coast Guard rescue attempt.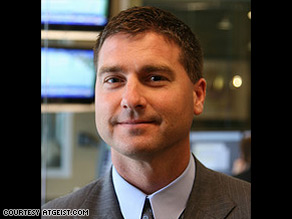 Marcus Schrenker was taken into custody on January 13 in Quincy, Florida, authorities said.
Marcus Schrenker, a financial manager and pilot who faces separate charges in Indiana on suspicion of defrauding investors, was indicted Tuesday by a federal grand jury.
Federal prosecutors allege he communicated a false distress message from his private plane and caused the Coast Guard "to attempt to save lives and property when no help was needed."
Schrenker took off alone January 11 from Anderson, Indiana, in a Piper PA-46 en route to Destin, Florida. Over Alabama, he contacted air traffic controllers, saying the windshield had imploded and he was bleeding profusely, authorities said.
Investigators believe he then put the aircraft on autopilot and parachuted to the ground, authorities said. The plane crashed near the Blackwater River in East Milton, Florida, missing a group of homes by 50 to 75 yards, said Sgt. Scott Haines of the Santa Rosa County, Florida, sheriff's department.
Schrenker, 38, apparently fled Harpersville, Alabama, on a motorcycle he stashed in a storage shed, using an assumed name, authorities said.
Schrenker last week was taken into custody at a Florida campground, where he was found with cuts on his wrists from an apparent suicide attempt, authorities said. He spent the weekend in a Tallahassee, Florida, hospital.
Federal prosecutors Wednesday said he was released from the hospital and transferred to Pensacola, Florida, where he is currently housed at the Escambia County Jail.
Between the distress call and the plane crash, the Coast Guard dispatched rescue helicopters from New Orleans, Louisiana, and Mobile, Alabama, to seek the aircraft, according to an affidavit filed in support of the federal charges. Two F-15 fighter jets also were scrambled to intercept the aircraft, authorities said.
The F-15s found the aircraft in the air near Birmingham, Alabama, and reported "the window was intact, the door was open, no lights were illuminated on the plane, there was no pilot on board and the plane appeared to be on autopilot," according to the affidavit.
"The F-15s followed the plane until it crashed" in Florida, the affidavit says.
Hours before Schrenker was found on January 13, he was charged in Indiana with with one felony count each of an unlawful act by a compensated adviser and unlawful transaction by an investment adviser.
Authorities believe Schrenker defrauded investors through three companies he owns that are based in an Indianapolis suburb.

Schrenker is scheduled to be arraigned Thursday in federal court, and is set for a detention hearing on Monday, according to the U.S. Attorney's Office in the Northern District of Florida.
Indiana officials agreed to allow the federal case against Schrenker to proceed before seeking extradition to Indiana, federal prosecutors said.
E-mail to a friend

All About Marcus Schrenker • Indiana